As her meeting planning company, The Compass Group, turns 25, Jean La Corte is experiencing a sense of gratitude, fulfillment, even (dare we say it?) … peace.
"I finally feel like I'm not the dog chasing its tail any more. It wasn't easy, but I accomplished everything I set out to do. I've reached my goals. I have been blessed."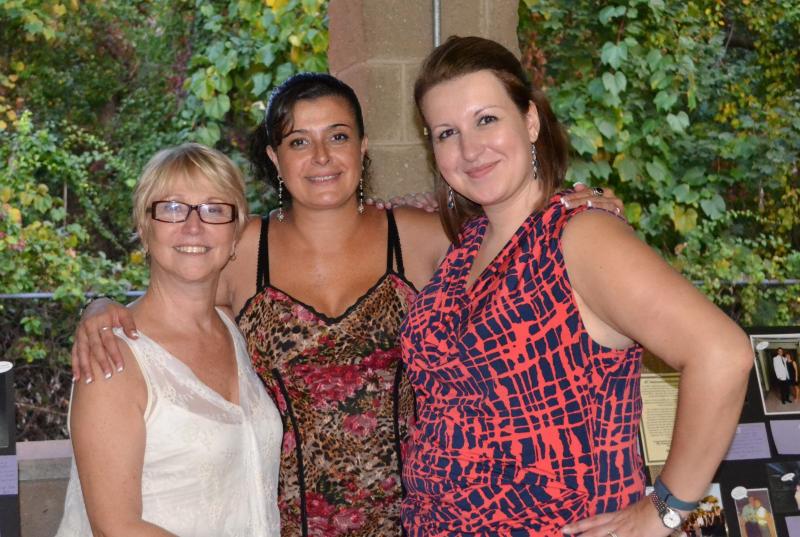 Jean La Corte with Event Coordinator Sandy Garay and Vice President
Isabel Musial at The Compass Group's 25th anniversary picnic party with
vendors and friends on October 5.
That might sound like a lady who's about to retire, but don't bet on it. Having also just hit 65, she realizes the solution isn't as much in stepping out as pulling back. "Meeting planners are Type A personalities. We like control. It took me a while to let go and not be afraid, but now I'm delegating more."
That's possible, she says, because of the talented, dedicated staff at her Montville, N.J., company, which manages national sales meetings, incentive programs, and special events for corporate, pharmaceutical, and medical meeting clients. "You must have good people who are trustworthy and have integrity in order to be able to let go. In a small company, it's like a family."

That family includes two full-time staffers. Isabel Musial had been a architecture student when she started planning social events on her campus and got into the medical meeting planning business ("From the moment I was introduced to her, I knew she was right, and six year later, I couldn't run my business without her"). Sandy Garay came to her without a stitch of meeting planning experience six months ago and is already managing her own programs.
"It's important for people to be able to think on their feet, to deal with the challenges that come up. She's good at that. I always say that meeting planning is like doing live television. How many live TV shows are there any more? They all get to do retake after retake, but we don't have that chance."
She also works with two contractors who she uses on site for all of her meetings. Call them her extended family, if you will.
Looking Forward, Looking Back
There have been a lot of changes in La Corte's personal life, too, that have caused her to pull back on the reins. Not only did she remarry, but she became the caregiver for her 95-year-old mother. Then, last year, the house she had moved to on the Jersey Shore was flooded by Hurricane Sandy, and she was displaced. "If people don't have a house down there, they have no idea what it's like. Everyone hears about Seaside because of its Boardwalk and roller coaster, but there were other communities, like Ortley Beach, that were hit just as hard." She says her town was basically "a war zone. It's presentable now, but it's going to take more time."
The good news is she's finally going back home in two weeks. "It taught me a lot. People have to realize that your life can change instantly and you need to be able to adapt."
Though she's the first to admit she's not tech-savvy, La Corte follows the people she has gotten to know over the years through LinkedIn—"That one I use," she jokes—like one employee who started working for her at 17, changing her career from psychology to hospitality. "Now she's a vice president of a company in Connecticut. We kid about it because she actually hired us as subcontractors."
La Corte has also been a trainer, doing a session for Meeting Professionals International on owning your own business and creating a handbook for meeting planners. 
And just as she has tried to help others, she has been fortunate to have met women who have done the same for her—including one who is younger, "but I still consider her my mentor. I respect her intelligence and business savvy and look up to her. She started out as a client and we became good friends. Now she has a global position with 90 people under her.
"That's what I love about this industry—to watch how people grow and see how everything comes full circle. It makes me look back on my 25 years and smile."