Alex Plaxen was walking on air all morning as he presented sessions at Meeting Professionals International's World Education Congress 2018. While normally a positive guy, no one knew the founder of Little Bird Told Media's mood was due to more than just the usual excitement of being at WEC18 until he was called to the stage during the Monday afternoon Pep Rally to be recognized for his achievements with the RISE (Recognizing Industry Success and Excellence) Award for Young Professional Achievement. Among Plaxen's accomplishments are taking leadership roles with the MPI Potomac Chapter and sharing his expertise by presenting at numerous industry events.
MPI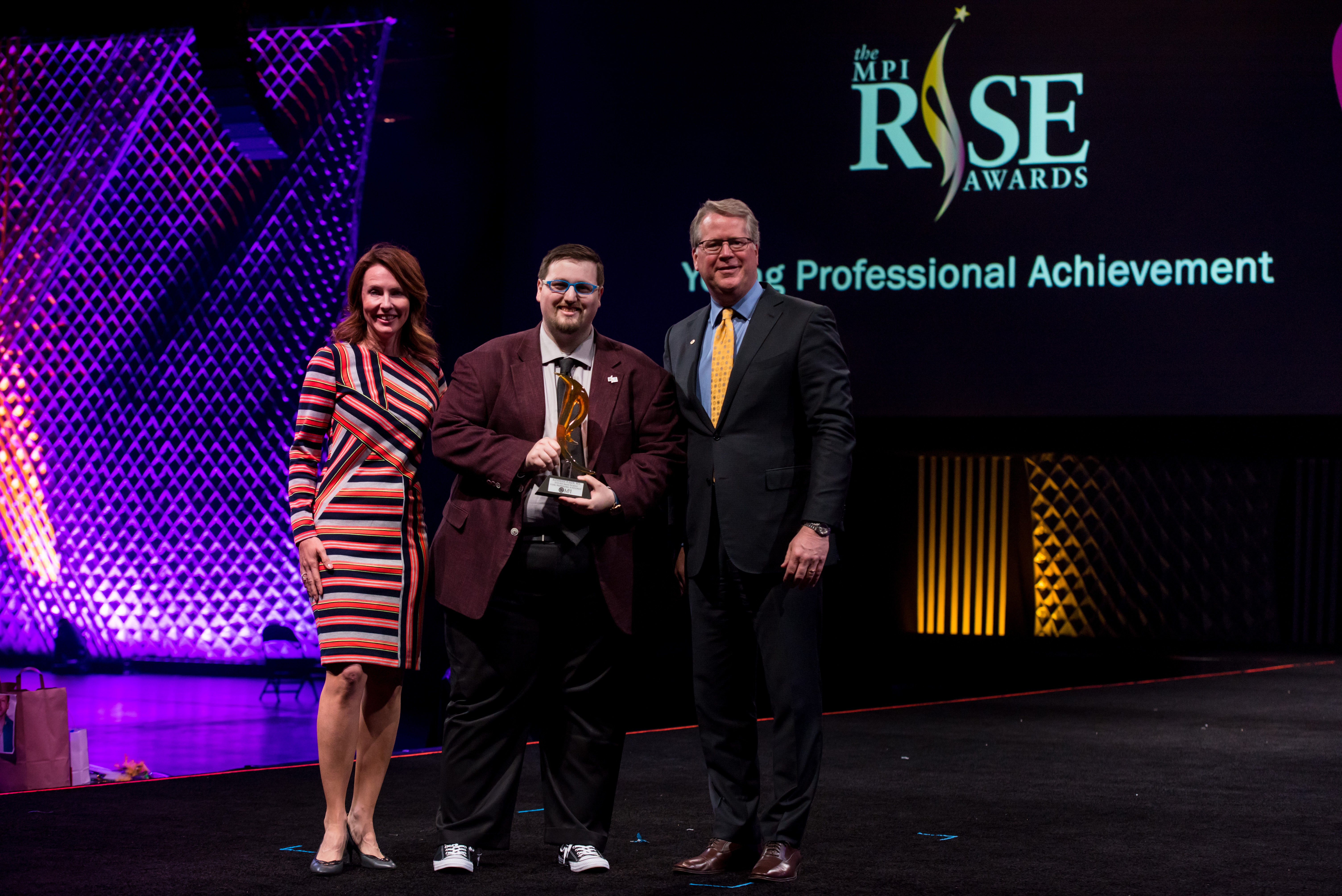 The honor for RISE Award Member of the Year went to a founding member of the MPI Poland Chapter, Wojciech Liszka. He is the founder of hospitality business consultancy Z-Factor and co-creator and co-organizer of the charity Poland Business Run. He also led the development of Meetings Week Poland, served as chairman of the Business Council at the Warsaw School of Tourism and Hospitality Management, and was a lecturer for the university from 2011 to 2015.
Michael Owen, managing partner of business event producer EventGenuity and a familiar face at MPI, earned the RISE Award for Meeting Industry Leadership for the global impact of his work on the MPI community and beyond over more than two decades. Owen has held a number of volunteer leadership roles at the association, including past president of the MPI Tennessee Chapter and past member of MPI's International Board of Directors. He currently helps MPI chapters with organizational leadership and project management as a chapter facilitator. He also was instrumental in creating the MPI Chapter Advisory Council, later renamed the MPI Chapter and Membership Advisory Council, and has served as vice chair of the Events Industry Council APEX Standards Review Committee.
Four MPI chapters also were called out for their exceptional work:
• The MPI Southern California Chapter earned its RISE Award for Innovative Educational Programming for creating (WE)Con. To promote the education and professional development conference and develop sponsorships, the chapter collaborated with the MPI Northern California, MPI Washington State, and MPI Oregon chapters. And it worked: The combination of an interesting venue—Island Hotel, Newport Beach—various learning formats, and a redesigned hosted buyer experience, (WE)Con grew attendance by 20 percent from 2016 to 2017, with another 15 percent increase from 2017 to 2018.  
• The MPI Dallas/Fort Worth Chapter's annual Sales Blitz Program earned it this year's RISE Award for Marketplace Excellence. The six-year-old program, held in the fall, is designed to connect supplier members with planners, and to recruit new corporate meeting planner members by reaching out to planner partners to secure appointments for supplier team members and build productive relationships. Post-appointment, planners receive a complimentary registration to an MPI Dallas/Fort Worth Chapter educational meeting to see the benefits of MPI membership for themselves and potentially motivate them to sign up. During the 2017-2018 fiscal year, the chapter added a second program in the spring, which had a total of 60 supplier participants resulting in more than $12,000 in income.
• The MPI Chicago-Area Chapter won the RISE Award for Industry Advocate for its Industry Xchange 2017. The chapter partnered with Choose Chicago and eight other industry members to execute a Global Meetings Industry Day education and networking event that drew more than 1,000 participants. Among the event's highlights: Chicago Mayor Rahm Emmanuel read a proclamation naming April 6, 2017, as Global Meetings Industry Day in Chicago; and AV Chicago, OLC Events, and Freeman XP blogs covered the event. Since it began in 2013, the MPI Chicago-Area Chapter's Industry Xchange has grown from 200 to 500 registered member participants.
• The success of the MPI Tennessee Chapter's "Get to Know You" campaign scored it the RISE Award for Membership Achievement. Members at select meetings throughout the year were invited to drop their business cards into a hat. Committee members then would invite them to connect one on one. The program generated more than 50 business cards at each event and helped increase member retention. The chapter's "New Year, New Membership Recruitment Event" also boosted its membership by providing complimentary registration for both non-members and members who brought non-members as guests. Overall, the chapter achieved an 18 percent growth in membership (60 new members) and a 2 percent increase in retention. In addition, as of May 2018, 130 of the chapter's 380 members (29 percent) serve in volunteer roles.
Meet the MPI Chair Award Honoree

MPI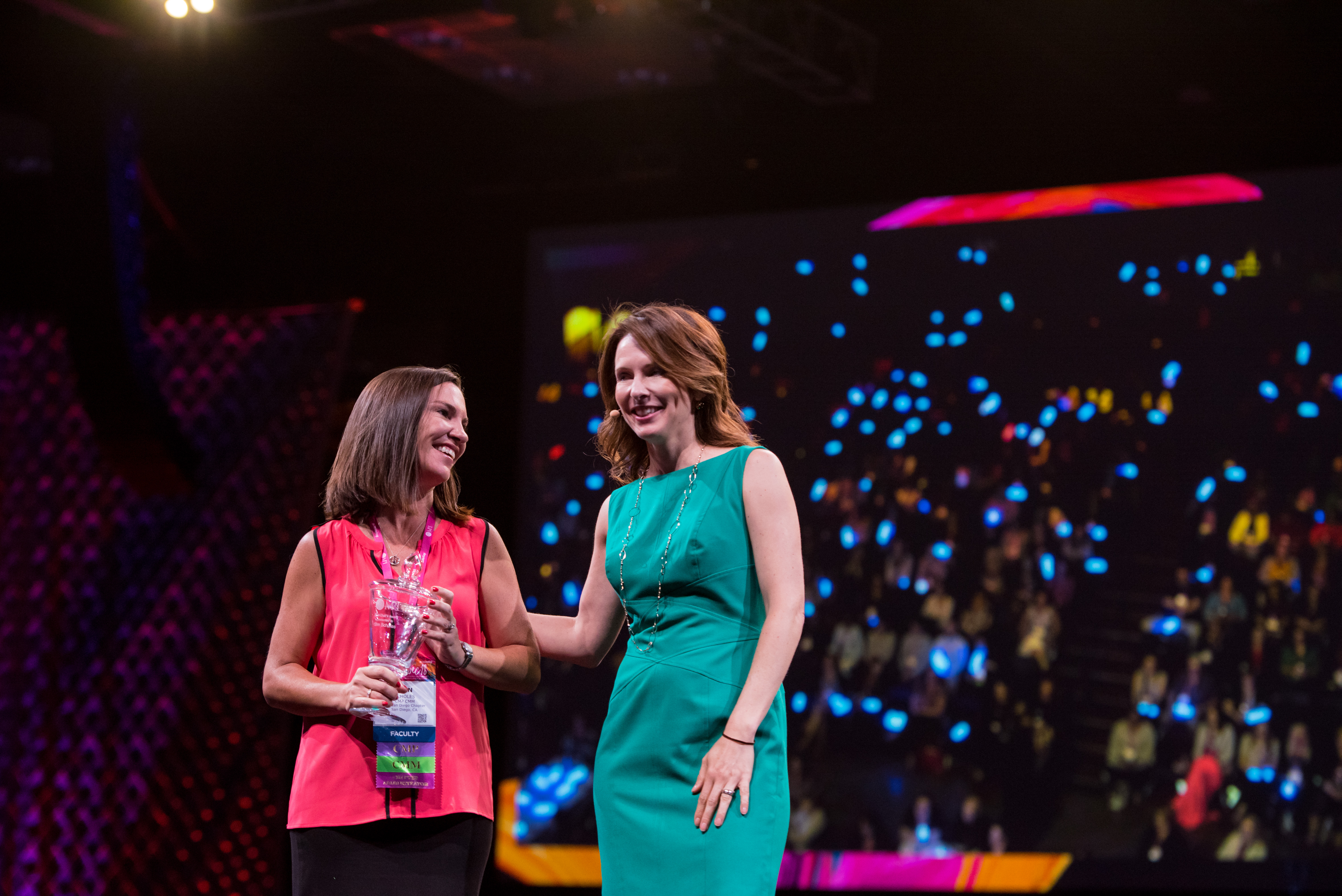 Also honored in a separate ceremony during the Sunday afternoon Pep Rally was San Diego-based owner of third-party meeting management business SD Meetings & Events Erin Scholes, CMP, CSEP, CMM. She was presented with the MPI Chair Award by MPI Chairwoman Amanda Armstrong, who brought Scholes to the stage, saying, "This award is at the complete discretion of the chair…me… and in a quiet moment, I thought about who makes our industry stronger…who leads by example …who is well-respected and does it all for the goal not the role. Who inspires me? I'm inspired by unsung heroes and servant leaders. And the woman I selected for the chair award…is both.
"She believes in keeping her skills sharp and has a mouthful of certifications to prove it. She is an independent business owner and a mother of two. She was [San Diego] chapter president in 2010 and was so good they hired her to be the chapter administrator. She's worked on the hotel side, the planner side, and now is faculty at San Diego State University. She is smart, entrepreneurial, and teaching the next generation of hospitality professionals the skills it takes to be successful in this crazy, but magical industry."