Forget about FOMO—I don't fear I'm missing out by not being at IMEX Frankfurt this year. I know I'm missing out (is IMO an actual acronym?) on some ridiculously wild stuff. The trickle of press releases that started weeks ago has now become a cascade of cool, starting yesterday with the inaugural half-day She Means Business educational sessions fueled by high-powered women telling their stories and sharing strategies to neutralize the gender wage gap and get more women into leadership roles in the work world. 
But when I heard about the Learning Labs C2 brought to the show as part of its new partnership with the IMEX Group—and saw the photos of people floating in mid-air on chairs in the Sky Lab today—why am I not there? I'm trying to imagine how the conversation would change if you're holding it 10 feet off the ground. Can you even hold a normal conversation, or is it so novel that all you can do is talk about being in chairs hanging from the ceiling? Do you have to worry about your shoes falling off as your legs dangle? Wouldn't it be interesting to position the chairs so the person with the lowest job title got the highest chair, and the CEO the lowest?
And then there's the C2 In the Dark Lab, where, says the press release, "planners were plunged into darkness, enabling them to fine tune their focus and discuss current trends—this proved very popular with many sessions fully booked." Unlike the Sky Lab, where the environment might be super-fun but also a bit distracting, I imagine the In the Dark Lab would, by taking away all the visual stimuli, actually make for deeper, more thoughtful conversations. But I wouldn't know because IMO!
IMEX Group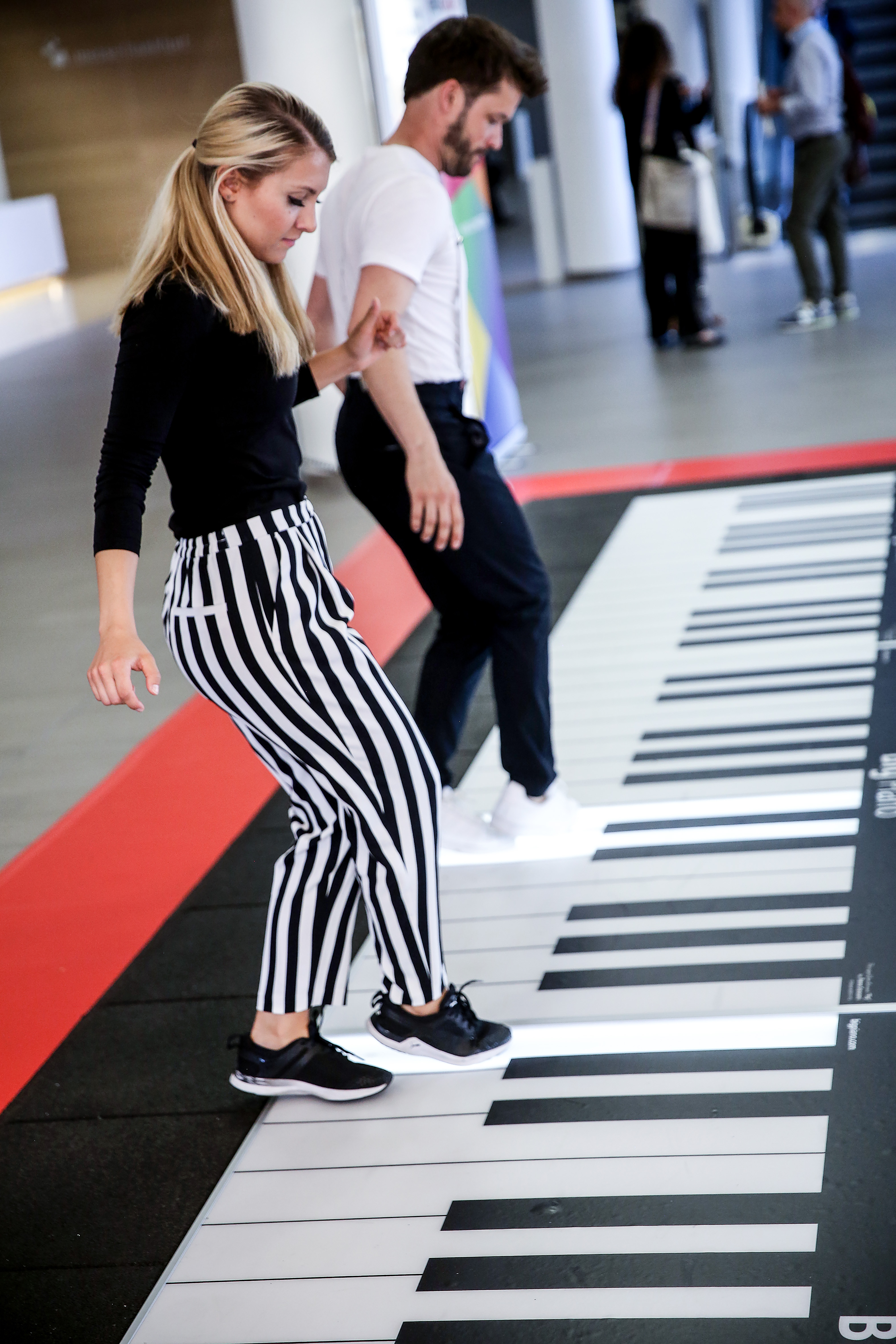 Then there's an enormous keyboard to play with, giant Dundu puppets (which I had to look up since I've never heard of them before, but again, super cool), and caricaturists wandering around the Live Zone. They even had my favorite musicians from the experiential music agency Song Division exploring creativity, communication, and collaboration as only they can … and this is all just in the Inspiration Hub, which is what IMEX calls its educational area. This year the Hub is home to more than 250 sessions, and I'm missing all of them. IMEX Frankfurt also has a small expo (she says, tongue seriously in cheek—I read there were 3,500 exhibitors from 150 countries on the show floor) that I can only imagine is an equally wild scene.
As IMEX Group CEO Carina Bauer says in the release, "We know that fresh ideas rarely appear from thin air—the right conditions need to be created for inspiration to strike." I'm getting a bit inspired just hearing about it from thousands of miles away. 
So yes, I have a serious case of IMO, and I'm a glutton for punishment. Please, someone who's there, tell me more about what it's like to have boots on the ground (or, rather, in mid-air) at IMEX Frankfurt this year.