Five women were singled out from the more than 140 nominations for the Association for Women in Events 2018 Hall of Fame recognition program during a Facebook Live announcement on July 12. In addition to being named as inductees to the 2018 Women in Events Hall of Fame, they earned the following awards:
• Courtney Stanley, CS Consulting, was honored with the Disruptor Award. Stanley, who is the youngest member elected to Meeting Professional International's International Board of Directors, focused her time on the board working to improve member experience and improve innovation, diversity, and inclusion. She also spoke with the BBC about sexual harassment and the events industry.
• Annette Gregg, CMM, MBA, senior vice president with Allied PRA, earned the Coach Award for the way she has used her leadership role to advance the careers of other female event professionals. "We have monthly mentoring calls that have been so helpful. She really pushed me, made me believe in myself and encouraged me to think outside the box," said her nominator. Another nominator said, "Annette was a huge influence in my decision to get my MBA...and is still my go to for advice."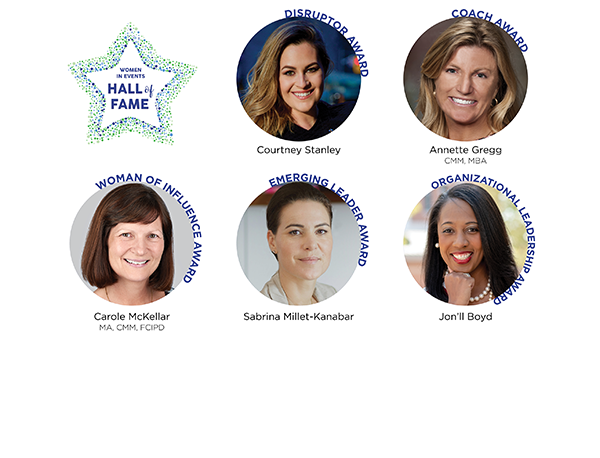 • Carole McKellar, CMM, received the Woman of Influence Award. McKellar, who is the managing director of Northern Europe at HelmsBriscoe as well as the chair-elect for the Global Board of Trustees for the MPI Foundation, has also earned the North-West Woman of Achievement Award; Duke of Westminster Award for Business and Industry; and Employer of the Year award. "Carole has a passion for ensuring that her people can achieve their full potential and part of this has been to create agile, flexible work environments so women in particular can contribute and succeed in line with their personal goals and ambitions," said her nominator.
• Sabrina Millet-Kanabar, who received the Emerging Leader Award, is the founder, creative director, and producer of SMK Events. "She always delivers beyond expectation...at times in very logistically challenging environments," said her nominator and past client. Another nominator said, "Sabrina has shown outstanding qualities in her work and contributed in a distinctive way to improving the lives of those less able."
• Jon'll Boyd was honored with the Organizational Leadership Award. As the chief event officer of Completely Yours Events, she manages more than 65 events per year. "You will often find her educating new and transitioning planners through her event training course, Eventagious, and her annual Planners Suite Conference," said her nominator. 
The nominations were judged by a panel of 2018 AWE board members and events industry professionals, and the awards were announced by Johnnie White, CMP, treasurer and a member of the awards committee, AWE President Kiki Fox; and Awe board member and awards committee chair Marie-Claire Andrews. In addition to receiving a lifetime membership in AWE, award sponsor IMEX sponsors flights and accommodation for AWE Hall of Famers to attend IMEX America 2018 in Las Vegas, where they will be toasted at a special reception.