Today's guest post is by speaker and author Cyriel Kortleven.
As a professional speaker, I have the opportunity to attend a lot of events and conferences. While they all differ in scale, audience,  locations, and cultures, they almost all share certain elements.
For example, the flow is the same at most events. Attendees arrive at  a certain hour, register at the welcome desk, get a name badge, and get a coffee before gathering in a large room for the keynote presentation. That's usually followed by some extra plenary presentations or workshop sessions, then lunch, and then more workshops in the afternoon. At the end of the day, attendees gather again for the closing keynote. The organizer expresses some words of thanks and invites everybody to have a drink and network.
There's nothing wrong with this flow, but there may be other ways to organize the event that could have a huge impact on the attendee experience. What would happen if you broke the assumption on how the flow is supposed to happen?
What other assumptions do we hold about our events? One way to find out what things we accept as true or necessary—but that may not be either—is to look at what events have in common. It's likely that 90 percent start and end at the same time and feature keynote speakers, for example.
Then see if you can find an event that did that element differently. I have found 21 common event assumptions, and some ways to break them. Here are a few examples:
• One stage, one speaker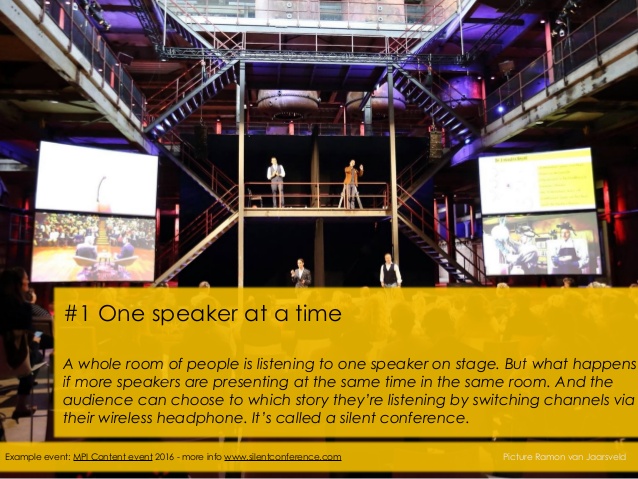 At most meetings, you have one main speaker on the stage that everyone in the room listens to. But imagine having many speakers presenting from different points in that big ballroom, and audience members can choose which story they listen to by switching channels via their wireless headphones.
This exists! I had the opportunity recently to be one of four speakers taking part in one of these "silent conferences." While it was a great experience, it also was very hard for the speakers because we had to compete for attendees' attention. And it was hard for the participants because they had to divide their attention. But after the first round, it got easier for both sides.
• The event organizer assumes all the financial risk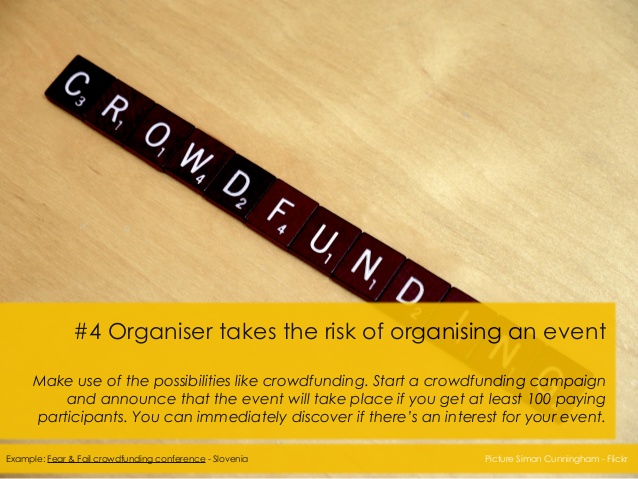 The onus is almost always on the event organizer to make all the front-end investment in the event, but it doesn't have to be. You could start a crowdfunding campaign and announce that the event will take place if you get at least 100 paying participants. You can immediately discover if there's an interest for your event, and you're dividing the financial risk among the participants. Then you can take it a step further and include crowdsourcing along with crowdfunding. Why not let the audience choose speakers from a shortlist you provide? And let them have a voice in setting up the agenda and flow? It's immediately a great marketing tool because you're involving your potential audience in advance.
• Alcohol is a necessary networking lubricant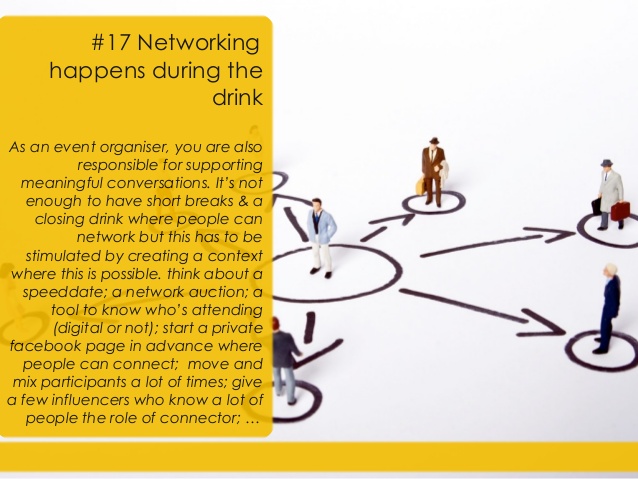 As an event organizer, you are also responsible for supporting meaningful conversations. Short breaks and a closing reception where people drink alcohol while they network is the standard protocol, but can you create other contexts that might improve the conversations? Think about adding speed-dating option; a network auction; or a tool (digital or analog) that lets people know who's attending. How about providing a private Facebook page in advance where people can connect? What if you could give some of your known influencers an official role as conference connector?
• Your job is done when the event ends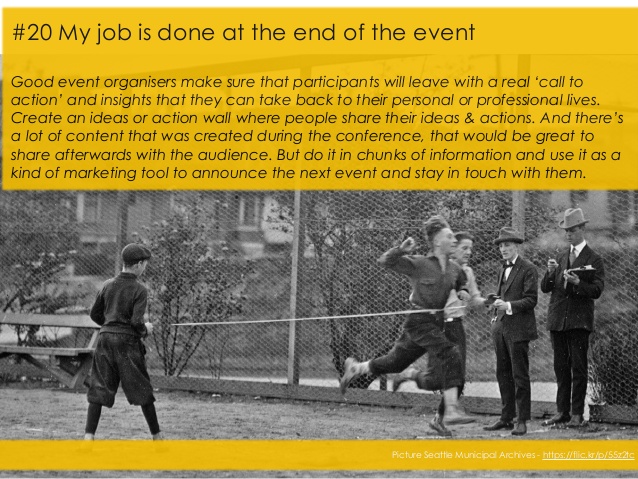 While the event itself may be over, the effects it has on your participants should continue long after. What can you do to make sure that participants leave with a real call to action and insights that they can take back to their personal or professional lives? One way to do that is to create an ideas or action wall where people can post their ideas and how they plan to act on what they've learned. And don't forget to continue to share that great content that was created during the conference. But be strategic about how you share it. Break it up into chunks of information that you then can use to give people a reason to keep interacting with your organization—and come to your next event.
• Only hire speakers who are experts in your industry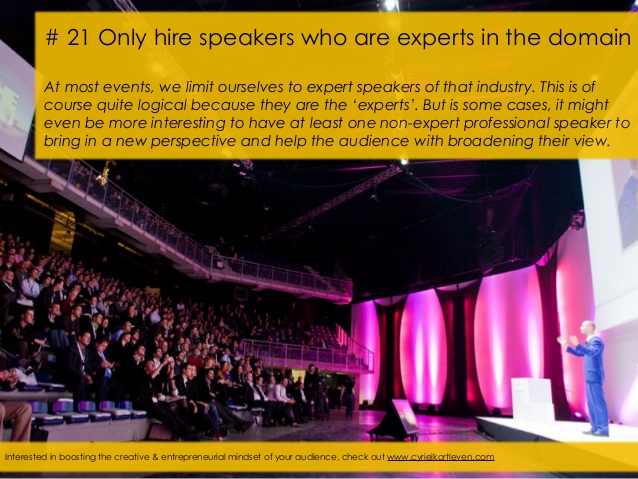 Most events only use speakers who are experts in the industry the event serves. This is of course quite logical—they are the experts, after all. But in some cases, it might even be more interesting to have at least one non-expert professional speaker to bring in a new perspective and help broaden the audience's perspective.
You can find the rest of the 21 assumptions on this Slideshare.
Do you need to break every event assumption you can think of and do things in a completely different way? No, please don't do that! It would drive you—and your audience—crazy. Only change the things you think will add value for your audience, and keep the changes small to start.
Cyriel Kortleven, a Certified Speaking Professional, is a global speaker, author of four books, and master of interaction who thrives on sparking creativity and boosting potential. Learn more at www.cyrielkortleven.com.