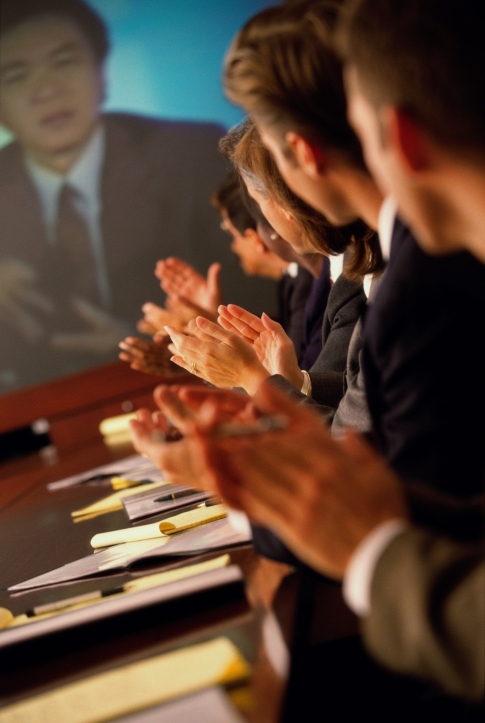 David Stankiewicz, project manager/strategic programs with IEEE, a professional association for the advancement of technology, showed how meeting planners can use Google+ Hangouts to enhance an event by, well, using Google+ Hangouts to speak at a session on meeting planners as change agents at the American Society of Association Executives Annual Meeting in Detroit this summer. His organization has been using Google's virtual meeting platform for a new series of events, and he had a lot of good tips to share.
Benefits: It's free for up to 10 presenters, and can be used in a public mode for a live event, or private if you want to use it for rehearsals or planning  meetings. There's also Google+ Hangouts on Air, which automatically records the session and uploads it to your YouTube channel for on-demand viewing.
Features: Videoconferencing, screen sharing, chat, document sharing. All you need is a solid Internet connection, a device with a webcam, and a Google account.
How IEEE uses it:
How IEEE uses it:
• To create a voice around a specific topic. In IEEE's case, its standards association uses it to support a cybersecurity campaign.
• To grow attendance at meetings by creating buzz around hot topics before the live events. They've only been doing it for about a year, so whether it's actually accounting for the increase they're seeing in attendance is hard to tell just yet. But they do announce a special discount at the end for those who are viewing the virtual event, so "we hope it has helped the increase we've seen in attendance, but we don't know for sure," he said.
• To expand the reach of a domestic conference to a previously untapped international audience.
• To provide more value to sponsors. They used Google+ Hangouts to produce live panel discussions among event sponsors, giving them another avenue to get their message out, provide more value to them, and create another revenue stream for IEEE. He said that the Hangout toolbox is really easy to use to add logos, etc.
The Hangouts events are free for viewers to check out on YouTube.
Best Practices
Best Practices
• Obtain release forms from speakers.
• Use Google Chrome as your Web browser. He said you can use others, but Chrome works best with the platform.
• Have a hard-line Internet connection. Wi-Fi connections are usually OK, he said, but you could get disconnected. Better safe than sorry!
• Conduct dry runs and dress rehearsals so panelists can get used to using the Hangout tools.
• While Google does have a built-in invitation system, it doesn't always work, said Stankiewicz. Instead copy the URL and e-mail it to everyone involved in the Hangout.
• Limit sessions to 60 minutes, and avoid scheduling sessions on Mondays and Fridays—11 am ET is the sweet spot, he said.
• Have a strong moderator to keep it moving along.
• Also think about backdrop/background that is behind your speakers, and ensure that they have good lighting and clear sound through their mics.
Suggested Categories
More from MeetingsNet

---