This is a guest post from Jacob Riggs, RCMA Emerge intern and Assistant Pastor at Central Free Will Baptist Church. He live blogged Wednesday afternoon's general session at Emerge 2013 with featured speaker Shawna Suckow.
1:11 pm: Dr. Harry Schmidt announces Dean Jones for the first time as Director of Events for RCMA.
1:15 pm: Dean Jones welcomes us to the general session. He asks us, "Are you having a good day?" If you are, how are you expressing that gratitude? He introduced a video about gratitude. Wonderful scenery, soothing voice, encouraging us to be grateful for life. Here's the video:
1:25 pm: Prayer and food arrives. Southern style coleslaw, Southwest flank steak with chili corn salsa, green beans and cheesy grits wedge.
1:50 pm: Birmingham CVB sponsored the lunch. They shared info about Birmingham and welcomed planners to come. Check out their website here.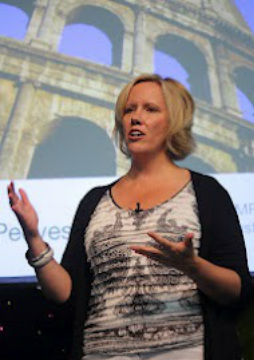 2:01 pm: Dean Jones (@eventzman) introduced Shawna Suckow (@spinplanners).
2:03 pm: Shawna is the author of two books, Supplier Pet Peeves and Planner Pet Peeves. Her website is here. She shared a fable of suppliers and planners. Planners are getting tighter with who they talk to and how they communicate. Suppliers keep trying old methods: cold calling, dealing with mistrust, the RFP process.
She then shared pet peeves for the planners the group shared such as suppliers who won't quit calling when you've clearly communicated, "I'm not interested."
Top pet peeves for suppliers:
Everything is urgent
Planners going "radio dark"
Sourcing abuse—planners commoditize themselves by abusing resources
Not hearing from someone who hasn't chosen you
How can we all work better together?
Planners—include goals for your event.
Suppliers—ask the demographics from planners.
Planners—note your top 3-5 priorities for suppliers.
Suppliers—respond on time (even if incomplete).
In Summary:
●      Suppliers are working harder than ever for the same amount of business.
●      Planners are causing more work for suppliers than ever before, with less potential.
●      Suppliers, tell planners why you need better/faster info and reward positive behavior. If you tell planners this, you're more likely to get more time.
●      Planners, be more forthcoming and trusting, and treat suppliers more like true partners.
●      Planners need to remember the pendulum is swinging. Be nice.
●      Suppliers need to engage differently with planners.
2:40 pm: Dean Jones encouraged us to complete "thank you" notes that were placed on the tables. We are to write a note to someone to express gratitude. We write them and fill out an address, and they mail them. Really cool idea. He ended that session by doing a few drawings.