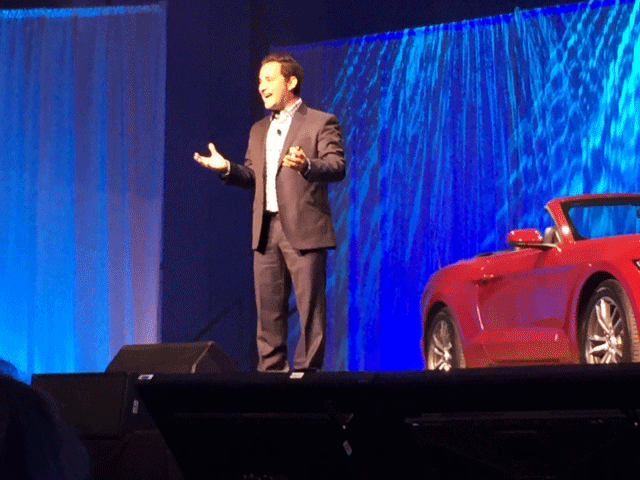 I guess the wags I overheard saying, "I guess you don't have to actually be funny; you just have to show Louis CK clips," had a point, but I loved  Detroit native son, author, entrepreneur, and venture capitalist Josh Linkner's opening keynote at the ASAE 2015 annual conference and exposition at the Cobo Center in Detroit. The clip in question—which I will just link to instead of embedding after what I learned in a session on trademarks and copyright by Jeffrey Tenenbaum, Esq.—was hilarious, true, but it also perfectly illustrated Josh's first of five obsessions of innovative leaders: curiosity, and how you should be like that kid who keeps asking "why" until you, like Louis CK, hit the outer reaches of absurdity. "Drive 'why' five deep," he said. "Keep asking 'Why?' until you get an answer," Josh exhorted us.
The biggest threat, and the biggest opportunity for associations, is today's environment of disruptive innovation, according to Josh. You do not want to follow the path of companies like Pan Am and Blockbuster Videos, which once ruled their respective marketplaces but were too slow to embrace change and so were swallowed up by nimbler new competitors. He cited a whole slew of examples, from the guy who created the donut-as-commodity-busting Cronut (half-croissant, half donut, all delicious, or so I've heard), to the guy who took on Gilette by creating the Dollar Shave Club (do watch the video if you haven't seen it—beyond hilarious).
Association execs—and I would argue, meeting planners—need to take on a new, unwritten title, as Josh said, "that of disruptor, or business artist, or entrepreneur." In addition to curiosity, his other four "obsessions" include:
• Crave what's next. "Easy to say, harder to do," he admitted, but don't fall into the trap of resting on success after a good year, or even worse, hunkering down and refusing to take risks during tough times. The city of Detroit is a perfect example, he said. "100 years ago, Detroit was the Silicon Valley of its time. We became caught up in our own success, then came the fingerpointing, entitlement, and blame. Over the past 20 to 30 years, our city has become a punchline." But now, he added, "Something magical is happening—instead of rebuilding the old Detroit, we're thinking about what a new Detroit will look like. The city is transforming before our eyes—this will be the great turnaround story of our time."
• Defy tradition, which is especially a tough one for associations, which tend to have decades-deep traditions. One way to do that, he said, was to "Judo-flip" those traditions. Citing examples like Massoud Hassani, who created the Mine Kafon wind-powered landmine deminer, and Kalula Airlines, which if you aren't familiar with it, check out the photos because they are awesome.
"The experiences you create can become differentiators," he said.
• Get scrappy. "Be like MacGyver," he said. "Think small: How would a raw startup approach differently the work you're doing?" If you want some inspiration, check out this DHL campaign. Talk about a brilliant case of judo-flipping!
• Push the boundaries. While associations tend to like making changes incrementally (if at all), Josh says to think big and change bigger. His example for this one was Cleveland Whiskey, started by Tom Lix in a very MacGyver-like way.
He left us with an "innovation challenge": To find just one idea, however small, for creative disruption. "Ideas are contagious," he said. "They lead to more ideas." I'm still working on mine…when I'm not revisiting those links and videos for inspiration, that is.
P.S. I also love that he dedicated a blog post to ASAE the day after his keynote.
Suggested Categories
More from MeetingsNet

---