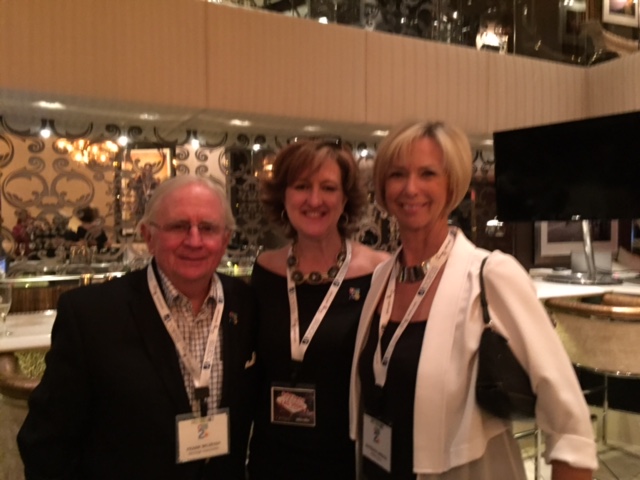 You know on radio talk shows when someone calls in saying, "Long-time listener, first-time caller?" That's how I felt when I touched down in Las Vegas last week for my first trip to IMEX America, the mega-show held at the Sands Expo. I had heard it was big. I had heard it was a tad overwhelming. I had heard it was amazing. Check, check, and check!
I mean, just look at the stats:
• 3,100 companies representing 150 countries
• 3,000 hosted buyers from 54 countries
• 66,000 business appointments, more than 57,000 of which were one-to-one appointments and booth presentations
It was one big crazy, fabulous, exhausting experience! Here are a few things this newbie found notable:
• Loved the wellness angle, which I gather was new for this year. Ironically, the "meditation taster" session I tried to go to on Smart Monday was too full, and I never had time free during the other meditation sessions to check them out myself, but I heard from others they were wonderfully restorative. I did pop into the mindfulness room, a blessedly device-free quiet space, a few times—located just down the hall from the press room, conveniently—for a few quick deep breaths. If there's ever a time and place to take a few moments to get centered and clear your mind, it's at IMEX!
Show organizers also provided a "wellbeing map" to healthy eating at the show, but this I did not partake of. How do people eat decently at this one? I subsisted mainly on the coffee and cookies available in the press room, which kept me buzzing, but obviously were not the best options. While they were not on my appointment list, a lot of the booths also offered things like reflexology (Visit Monaco), aromatherapy (Sedona Chamber of Commerce), and fresh fruit (Las Vegas Convention and Visitors Authority). I was too busy trying desperately to get some early-morning writing done before the show opened to join in, but there also was a fun run this year, which I hear was really well attended.
• Be nice to your feet! I asked pretty much everyone I talked to which they expected to give out first, their feet or their voice. I'd say it was about 99.5 percent who said feet, though the last guy I asked had to croak out the words, his laryngitis was so bad. Foot-care tips included bringing an extra pair or two to the show each day and switching them out regularly, stick with flats (for the ladies), and sneak in a quick foot massage during bathroom breaks. (If you missed our gallery of go-to tradefloor shoes, it's not too early to start stocking up for next year! Just be sure to break them in well before you head to the airport—nothing is guaranteed to bring blisters more than new shoes, no matter how comfy they are in the store.)
• You will run into people you know. I couldn't believe how many people I have e-known for years I got to actually meet in person at IMEX America, and how many people I usually don't see at MPI WEC or PCMA I ran into. I also couldn't believe how many people I know were at the show that I never got a chance to see! For a show that size, and that busy, it was also wonderfully embracing, even for an introvert like me. Now I need about a month of quiet time to get back to normal, but it was cool to see so many great people in one place.
One of my favorite moments—and a place where I ran into a huge concentration of really cool people—was the award ceremony for the Event Technology of the Year. Here's the crowning moment, captured in a shaky, badly lit iPhone video:
• Awesome educational sessions. I had kind of expected this to be a weak point of this show, which rightfully is focused on the trade show aspect, but everything I went to was truly top-notch. Kristin Arnold's session on how to make panels more powerful on Smart Monday was inspirational—if you ever get the chance to hear her speak, do not hesitate! I also caught Brandt Krueger speaking a couple of times on what planners need to know about AV to save themselves headaches and unexpected charges, and he made it very understandable for those of us who don't know our center fills from our line arrays. I mean, I found myself getting all caught up in learning about rigging points and audio outputs!
The few "campfire" sessions I went to at the Inspiration Hub on the show floor were also short, sweet, experiential and engaging, and packed with tips, as were the more in-depth sessions in the enclosed spaces at the Hub. Many of the latter had headphones available so we could hear the speakers over the background noise, a big challenge at other education-on-the-show-floor (or other highly trafficked areas) I've attended. They also provided a screen listing what's happening in the various Inspiration Hub areas at the time, which was really useful. The minders were a little overly aggressive about scanning badges—I couldn't just stick my head in for a moment without getting scanned—but all in all, just terrific on the education front.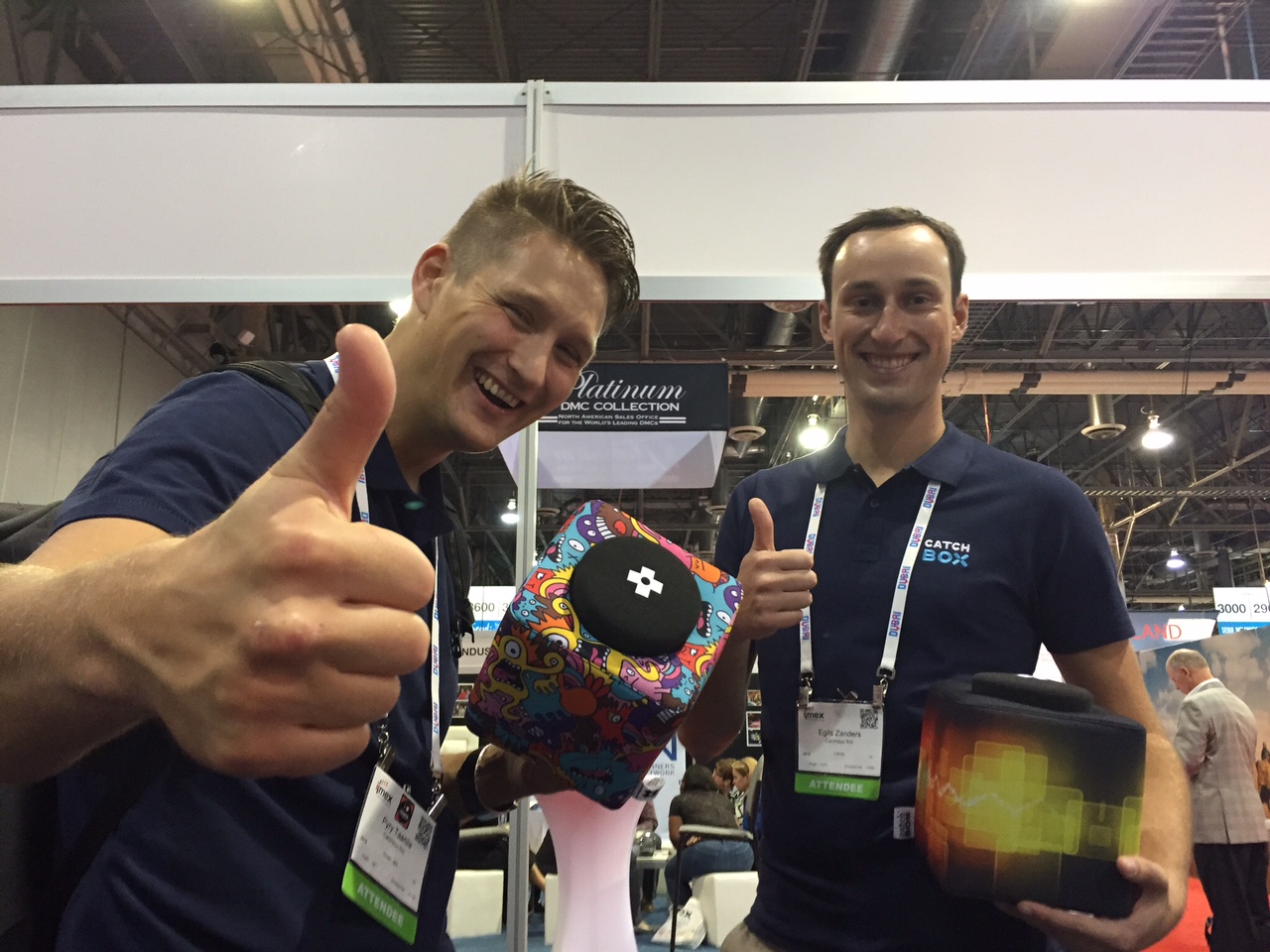 • Great press room. I loved that they provided a bank of laptops for us to use, and a separate area for press conferences. I spent a lot of time in that room, and it was a productive place to get some work done, except I kept running into colleagues I hadn't seen for a while! Thanks to the Las Vegas Convention and Visitors Authority for sponsoring it, and to whoever it was who logged me out when I forgot to do it one time—note to fellow press and anyone else using a public computer at a show to be really vigilant about this! I logged a bunch of other people out and would have thought I was diligent about it myself, but obviously not.
Totally unrelated interesting thing I learned while in Las Vegas: As my taxi over to Caesars Palace for Site Nite pulled out of the drive at the Mirage, where I was staying, my driver warned me that a bump was coming up. OK, that seemed a little gratuitous. But then he explained that he had begun doing that because those who had imbibed a few too many adult beverages tended to bang their heads against the window when he hit speed bumps, endangering themselves and the window. So now he warns everyone who gets in his cab, just in case.
He went on to tell me that, if someone got sick in the cab, he was required to call 911. Not only would they dispatch an ambulance to take the impaired person to the hospital, but they also would send out a hazmat team to clean the detritus, and send samples to a lab to ensure that it was just alcohol that made them sick, not a potentially communicable disease. Of course, this all means the poor guy's cab would be out of commission for the rest of the night. Things have changed a lot since my cab-driving days back in the late 1970s/early 1980s!
Totally unrelated thing from the plane ride home: Thanks to JetBlue for providing free Internet on my flights to and from Boston. I managed to resist the lure on my way to Vegas, but spent most of the flight home getting work done. Which is kind of a bummer, but then again, it made re-entry Friday morning much, much easier. This was the first time I had access to free in-flight Wi-Fi, and it was pretty seamless.
Also, the Vietnamese chicken sandwich I picked up at Pei Wei's Asian Diner on McCarran's Concourse E to eat on the plane was I think the best airport sandwich I've ever had (and I've eaten a lot of them!).
Fellow IMEXers, what is sticking in your brain about last week's show?
Suggested Categories
More from MeetingsNet

---