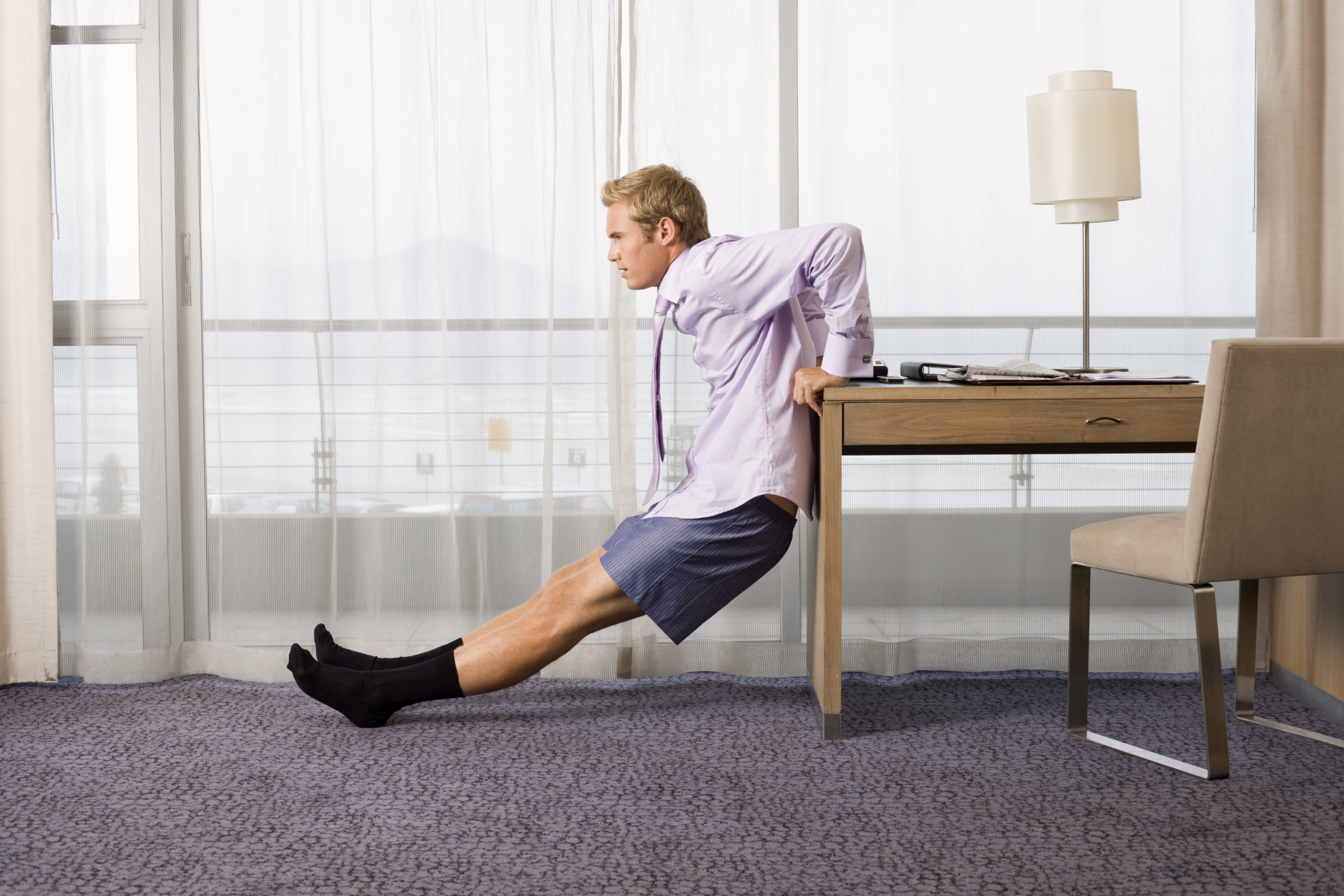 I'm really excited to be heading to Detroit for the American Society of Association Executives Annual Meeting and Expo on Saturday. It's been quite a few years since I've been to that conference, and I'm looking forward to connecting with people I haven't seen in way too long. What I'm not looking forward to—OK, maybe I am, just a little—is giving in to the always-present temptation to let my exercise routines go and eat all those lovely appetizers, desserts, and other nibbles. They don't say ASAE stands for "Always Standing, Always Eating" for nothing!
I know a lot of people get up extra early to go for a run or hit the hotel fitness center, but neither of those are a good option for me—a bout with plantar fasciitus kind of killed the joy of jogging for me, and I get intimidated by all that equipment and all those fit people who hang out in the gym. If the hotel is in a safe area, I like nothing better than to go for an early morning (or late afternoon, if the schedule allows) walk around the city, but that takes more time than I usually have, especially since those few spare hours are most often taken up dealing with e-mail, writing up stories from the day before, etc. There's always an excuse, isn't there?
Since falling head over heels in love with Zumba—a Latin-dance-inspired fitness program—several years ago, I try to find a local class that I can drop into, but again, that doesn't always work out logistically, though I have Zumba'd from Las Vegas to Australia. Since I became a certified Zumba instructor last year, I have access to a huge range of Zumba tunes on my iPhone, so when I can't make a class I often will do a one-person class in my room (sorry, neighbors!) If you like Zumba as much as I do, you also can find a channel for instructors you like on YouTube and build your own class via video (I love these these guys from Rome). If the organization holds a fun run/walk, I try to do the walking version of that. But that's just one day, usually.
Whatever form it takes, I do try to set aside an hour in the morning to do something, and in most hotel rooms there's at least enough space to put down a towel (I can't justify taking up the space in my suitcase to bring my own mat; a towel works just fine in a pinch). I have a strength/cardio routine that one of the instructors at my local gym put together for me that entails three minutes of, say, crunches or tricep curls—those Fiji water bottles work great as makeshift weights, y'all—followed by one minute of jumping jacks, mountain climbers, etc. It's not pretty, but it gets the job done. I haven't used it yet, but I also downloaded a personalized online program called FitStar, which I plan to check out while in Detroit. And some yoga stretches after a long day are divine.
The food thing is a lot harder for me though. While I almost never eat dessert at home, I scarf up every break brownie and pudgie pie in sight when I'm on the road. And while vegetarian options are becoming more common, there also has been a somewhat disturbing (to me anyway, who doesn't eat red meat) trend toward beef, beef, everywhere, with a pork slider chaser. So I end up eating a lot of bread and cheese and crackers at receptions, particularly, just to fill up. And the desserts, of course. All those lovely tarts that must be OK because, after all, they do have a strawberry on top, or so I tell myself. Airports, particularly when I have long layovers, also are dietary danger zones for me. What I eat at Logan stays at Logan, right? Unfortunately, my scale disagrees!
What do you do to tame the "I'm famished"/"I deserve it"/"Oh why not?" dietary demons when you're on the road? I know it's even harder for planners, who have to grab food whenever and wherever they can in between putting out (hopefully only figurative) fires, so any advice you have would be more than welcome.
P.S. Do you wear your sneakers on the plane or pack them? I usually wear mine—not crazy about packing them in with my good conference-going clothes—but the one time my bag didn't make until the next day and I had to run out to buy shoes before the afternoon session started gives me pause!
Image by Jupiterimages on Thinkstock by Getty Images
Suggested Categories
More from MeetingsNet

---