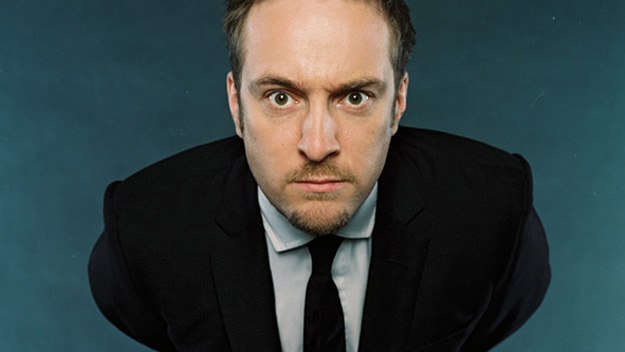 I just loved mind control master/speaker/artist Derren Brown's strategy for dealing with an irrationally angry person, listed as part of his Guide to Overcoming Awkward Situtations (other meetings-friendly advice contained in "How to avoid embarrassment when you can't remember someone's name," and "How to make friends in a room full of strangers"):
This is simply about not engaging with your aggressor at the level they expect. I was coming back from a hotel at about 3am one night and there was a guy in the street with his girlfriend. He was really drunk, clearly looking for a fight and he started kicking off at me. I had a routine ready in my head for this sort of situation and it worked a treat on this occasion. He asked me that typical aggressive rhetorical question — "Do you want a fight?" You can't say "yes" or "no" — you'll get hit either way. So, I responded with, "The wall outside my house is four-feet high."
...I delivered the line in a completely matter-of-fact tone, as if he was the one who was missing something here. Suddenly, he was confused. All his adrenaline had dropped away, because I'd pulled the rug from under him... I stuck to this surreal conversational thread with my assailant, saying things like, "I lived in Spain for a while and the walls are really huge, but in this country they're tiny." After a few of these exchanges, he just ... broke down in tears. The guy had all this adrenaline and was on the point of really laying into me — I was seeing myself beaten to a bloody pulp — but these non-threatening nonsense statements broke that aggression down and he genuinely started crying. I ended up sitting next to him on the kerb, comforting him. It's the same with guys that come up and ask to "have a look at your phone", and you end up handing over your stuff and hating yourself for doing it — you can use the same approach. My PA had some stuff nicked in a Tube station recently, and I said to him, "If you'd just starting singing, they would have left you alone."
Hey, it could come in handy!