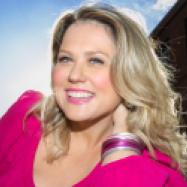 Neen James
Author and Speaker, Neen James
Neen James, author of Folding Time and Attention Pays, is a high-energy sales and leadership expert. She's obsessed with helping leaders increase sales by focusing attention on how they can lead with more influence and impact.
Neen's fun, unique Aussie-ness makes her a sought after business motivational keynote speaker. She has been named one of the Top 30 Leadership Speakers by Global Guru several years in a row because of her work with companies like Viacom, Comcast, and Virtuoso Travel. Audiences love her interaction, wicked smarts, and practical strategies they can apply at work and home. Neen is a Certified Speaking Professional—a valuable accreditation earned by less than 10 percent of speakers worldwide.
An author and speaker, her corporate background developing and managing large teams in several industries, and for a variety of corporate clients, has given her expertise in developing implementable strategies to increase sales, accelerate focus, and lead with more impact. She also provides one-on-one leadership coaching and mentoring, and her clients will tell you they love working with her 90-day accountability plans.
As a speaker, James is known for her super high-energy business motivational keynotes, which she uses to empower people with strategies to make more money, get more done, and focus on what really matters. She provides interactive, fun, and upbeat keynotes that share practical, real-world strategies that can be implemented as soon as people get back to the office.