Chonda Long, National Council of Teachers of Mathematics

Director of Professional Development
National Council of Teachers of Mathematics
Chonda Long started her career as a math teacher, then shifted to the association side when she joined the National Council of Teachers of Mathematics in 2008, moving up from professional development manager to director of professional development four years ago. She currently is putting her PhD in education and her master of education degrees to work to provide an improved experience for NCTM's attendees with Innov8, the revamp of her organization's regional conference model that's debuting in St. Louis in November. The organization will then evaluate Innov8, make changes as needed, and implement the new model in its other regional conferences.
Making Change
Our major events are traditional conferences with concurrent sessions on a potpourri of topics under the umbrella of mathematics education. But when we found attendance was declining, it became apparent that something had to change. While we knew that we might ultimately have to rethink all of our meetings, we began by focusing on one of our major conference designs to turn what had been NCTM's Regional Conferences into Innov8.
Innov8 is designed to help teams develop and build on their strengths; support the full range of school/district professionals, including teachers, administrators, coaches, and principals; and work to allow teams to build on their experiences and growth to engage and influence change with their peers and colleagues. 
Through extensive communication and collaboration between volunteers and staff across multiple departments, and with the help of a consultant, we transformed the program to create a focused, unique, curated learning experience. We brought in nontraditional session formats to provide contexts grounded in expertise and shared experiences:
• Student stakeholders: a panel of local students
• Intervention convention: intervention strategies and programs that work
• Lifesavers: transformational teaching ideas
• Video interactives: highlights video of active classrooms—and how to use video to engage students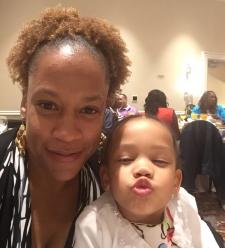 Chonda Long with her daughter, Kendall
To support the whole attendee, we offer a series of wellness sessions. To engage prospective participants in building the program, we now use crowdsourcing in the session-proposal process.
Complementing these learning experiences is the Innovation Lounge, which includes five distinct experiences designed to stimulate collaboration, dialogue, and problem-solving. These include the Innov8 Bar, where teams can have one-on-one conversations with innovators in the field; Narrate, where personal stories from the classroom drive the discussion; The Book Nook, to engage with authors and book study participants from around the country; The Hangout, to regroup and recharge; and TNT, Teachers Networking Together, to bring in, engage, and expose the work of the participants to others through social media and math circles.
The goal of this pilot is to create a high-engagement experience with experts and colleagues that results in participants gaining new skills, structures, and perspectives to positively impact students; and recognize and value the contributions an educational professional team can make in supporting each student's success. In the end, it's the impact on students that makes a difference.
What's Next?
We decided to evaluate all of our professional development offerings to see how we can improve upon them to create a coherent set of offerings that build a strong sense of community.
I see ways we can redesign the Interactive Institute model we have used for the last five years to link it to some of our other initiatives. For example, we can use these Institutes to further promote our landmark publication, "Principles to Actions," while also using professional development to foster a community that creates a set of resources they can use and share with the larger NCTM community.
Because collaboration and community are key to this process, we will be working with other departments and bringing in volunteers. While this might be the next project I am working on, I am constantly watching for environmental trends that might affect our audience to make sure that our offerings respond to their changing needs.
Previous: Changemaker Carol Krugman, MEd, CMP, CMM
Next: Changemaker Dave Lutz