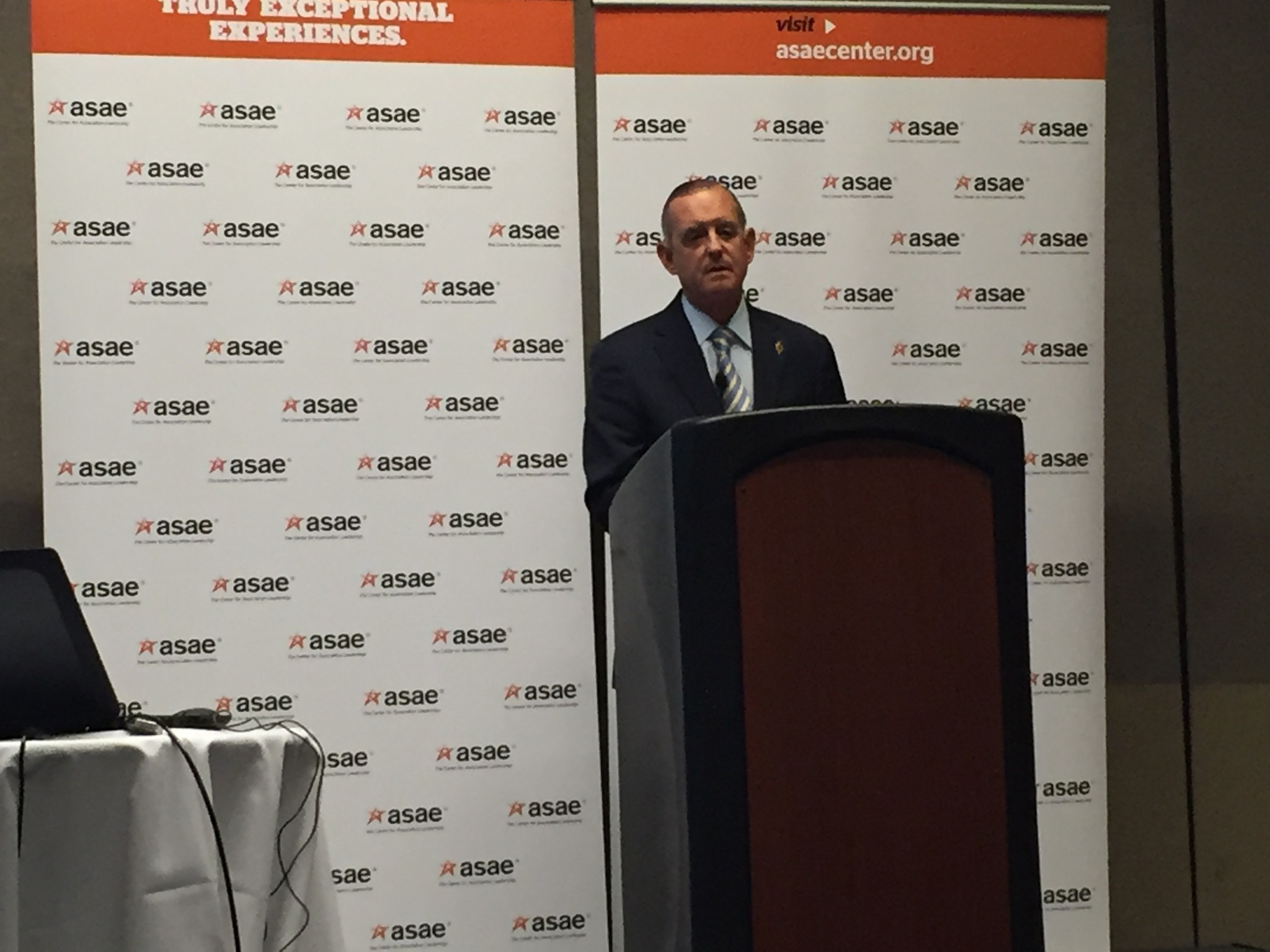 ASAE President and CEO John H. Graham IV, FASAE, CAE, at a press conference held during the annual meetingIn the wake of recent legislation passed in North Carolina and elsewhere that was considered by many to be exclusionary for and discriminatory against gay, lesbian, bi/transgender people, the American Society of Association Executives' board of directors recently adopted a diversity and inclusion advocacy and policy model and approved new contract language for its future events. 
The idea, says the organization, is to "protect ASAE against possible discriminatory legislation that might threaten the success of a planned meeting or convention. Associations cannot afford the reputational risk of being associated with or doing business in jurisdictions that are perceived to be discriminatory."
ASAE President and CEO John H. Graham IV, FASAE, CAE, said during the opening the the ASAE 2016 Annual Meeting, which opened Sunday in at the Salt Palace Convention Center in Salt Lake City, associations need to make a stand by letting suppliers know "associations will not come to your cities and convention centers unless all of our members are welcome."
The anti-discrimination clause for future convention center/hotel contracts, which was drawn up to be consistent with ASAE's policy on diversity and inclusion, reads: 
It shall be considered an incident of force majeure, and thus relieve Event Sponsor of any obligation to Property under this Agreement, including but not limited to waiver of any cancellation or attrition penalties, and Event Sponsor will receive in full a refund of any amounts paid to Property pursuant to this Agreement, if, at any time between the effective date of this Agreement and the beginning dates of Event Sponsor's event, Event Sponsor provides written notice to Property of cancellation of this Agreement based upon any state or local government arm, including a legislature, board or agency in the jurisdiction of the Property, having enacted legislation or regulation that has the effect of: 1) repealing existing legal protections or prohibiting the passage of legal protections for Subject Individuals; 2) allowing discrimination against Subject Individuals in employment, housing, or public accommodations or services; or 3) prohibiting Subject Individuals from accessing facilities (including, but not limited to, restrooms), where "Subject Individuals" are those identified in the legislation or regulation based on race, color, religion, national origin, age, marital status, personal appearance, sexual orientation, gender identity, family responsibility, political affiliation, or disability.   
At a press conference held on Monday, Graham elaborated on ASAE's diversity and inclusion stance. The association has created a decision tree to guide decisions on which issues they want to get involved with—"ASAE will probably not take an issue with gun control, abortion, or other social justice issues, but we felt it was important to take a stand on discriminatory legislation," he said. The association plans to make its decision-making model public so other organization's can use it as well.
He added that ASAE does not advocate boycotts because the people the boycotts hurt are not the legislators, but those who work on the ground of meetings and conventions, such as cab drivers, convention center workers, and restaurant staff. In addition to adding the diversity and inclusion clause in its future contracts, ASAE will work with sister organizations, universities, and others to educate legislators of the consequences discriminatory legislation can have in terms of lost meetings and other association business.