As Duke University Professor of Psychology and Behavioral Economics Dan Ariely once famously said, "Big data is like teenage sex: Everyone talks about it; nobody really knows how to do it; everyone thinks everyone else is doing it, so everyone claims they're doing it." But it's time to develop a more mature relationship with digital, data, and analytics, said Denzil Rankine, executive chairman of AMR International to the 127 meetings, events, and exhibition professionals who came to the inaugural Transform USA conference at the Washington Marriott at Metro Center in Washington, D.C., on July 20. At stake is nothing less than a successful future for the trade show industry.
Comparing today's trade show environment to the rise and eventual fall of the Blackberry, which failed to adjust as the iPhone came on the scene and stole its market, Rankine pointed out that the core value that trade shows traditionally have delivered upon—net square feet—is growing at just 2 percent, while digital revenues and corporate event budgets (the latter based on U.K. data) are growing at 12 percent, high-touch U.S. events are growing at 15 percent, and the event tech market is growing at 16 percent. That's a disconnect that trade show organizers can ignore only at their peril, he said. 
The industry needs to find ways to think outside the net-square-foot metric and grab onto the higher growth digital and event tech arenas. Just as Blackberries were great until iPhones changed the category, "Trade shows are also great, but let's lead the transformation ourselves," he said. "The industry is maturing—forecast growth is converging with GDP—and data analytics and digital are the drivers moving us forward."
Citing an AMR survey, he said that, while most senior executives recognize the increasing importance of data, analytics, and digital, none of the show organizers surveyed felt they had the resources they needed to implement their data, analytics, and digital strategies. Also lacking are a dedicated team and budget, though double-digit investment is expected. But, the survey also found, that having a budget doesn't mean organizers will be hiring data scientists any time soon.
The message came through loud and clear that it is up to the people like those in the room to develop the skill sets, and the mindset, to embrace the digitization of trade shows. This will entail, as Rankine said (and most of the day's presenters re-emphasized), moving from being order takers who deal mainly with "the guy who buys the booth" to customer-centric strategic business partners who ultimately can create value for customers by helping them achieve their goals.
Transform USA, which was co-organized by AMR International and Lippman Presents, was an outgrowth of AMR's Data and Digital Event Strategy Symposium, held in London last December. The U.S. program, which featured 20 speakers who represented independent and association show organizers, event technology leaders, and venues, was designed to provide both strategic insights into how data, analytics, and digital are affecting events, and tactical and practical ways to use data to drive return on investment for event stakeholders.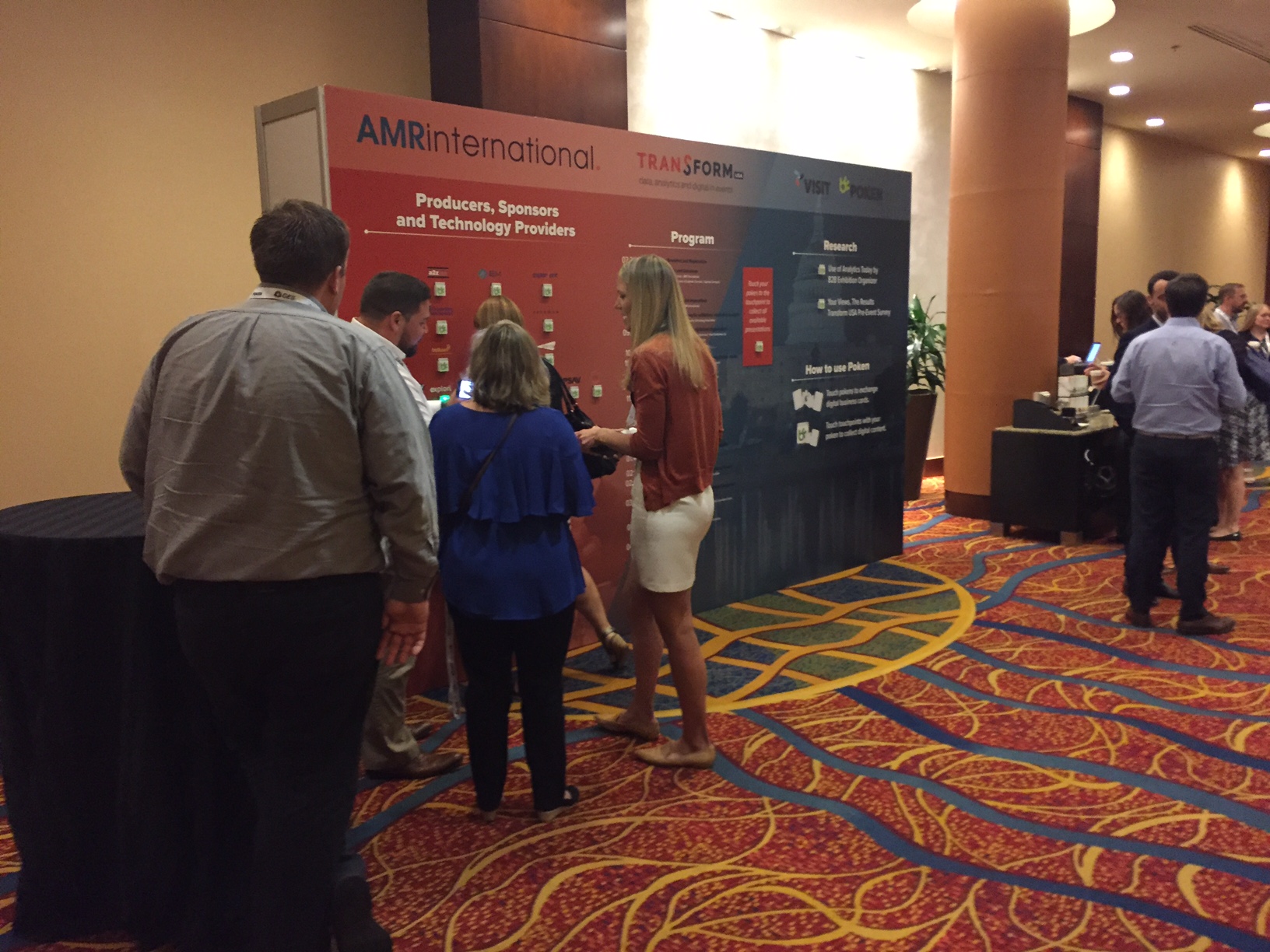 The format also was designed for speed-learning, with half-hour sessions followed by Q&A and a mix of panel and individual speakers, with ample refreshment breaks for networking. It also included on-site technology that proved popular with attendees, including Poken devices that allowed participants to "high-four" each other to exchange digital business cards and collect research and other information on sponsors, speakers, and the presentations by tapping the devices on touchpoints on a wall. Participants also were each provided with a second screen—an iPad—preloaded with the day's presentations. Provided by Educational Measures, the iPads were used for polling, note-taking, Q&A, and to save slides, all of which were emailed to the participants shortly after the conference.
This first Transform USA will be followed by Transform Europe in London in December, and Transform USA in July 2018 in Washington, D.C.