Since its first convention in 1983, the North American Veterinary Community has held its annual Veterinary Meeting & Expo in Orlando, where it drew about 18,000 attendees to the 2020 version held just weeks before Covid shut down travel. Come January 2022, Covid variants were still causing havoc, and VMX drew just 7,000 paid attendees in person and 3,000 online.

But for the event's 40th anniversary in 2023, the association decided to use a healthy dose of nostalgia as it built and marketed a meeting that presents the veterinary industry's latest innovations and ideas. The result: a 1980s conference theme, complete with a registration fee matching that of the first VMX in 1983: $125.

The association's executives delivered messages that made the connection between the industry's past and present. "The bond between humans and animals has grown tremendously since that time—animals are not just pets, they are family members," says Gene O'Neill, CEO of NAVC. Because of this, "the reach of the veterinary industry has expanded exponentially, and we have seen tremendous change in the industry."

That missive from O'Neill to attendees was complemented by this one from Dr. Dana Varble, chief veterinary officer for NAVC: "A longer lifespan for pets comes with diseases like cancer, arthritis, and diabetes. But there are incredible breakthroughs taking place today with new medications and devices to improve health. The more exciting trends this year are around non-invasive surgeries, diagnosing skin cancer, and even understanding pain."

For the younger generations of veterinarians, then, the 1980s event theme was used to highlight 40 years of breakthroughs and technologies in their field while offering attendees an entertaining atmosphere. Besides all the references and décor used throughout the Orange County Convention Center to deliver a taste of 1980s life, the social highlight of the event was an appearance by period icon Kevin Bacon.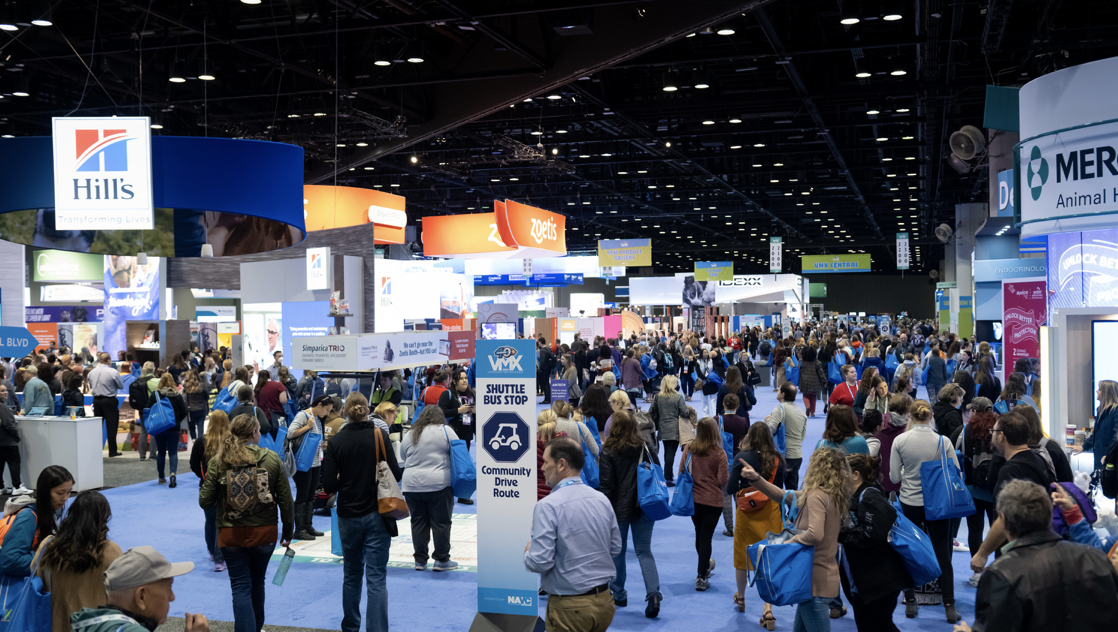 To further drive interest from potential first-time attendees, NAVC created detailed marketing communications with the information necessary for novices to feel comfortable navigating such a large convention and exhibition. The main tool the association used: an email featuring a video hosted by Varble that provided tips for navigating VMX; instructions on how to use the event's mobile app and how to track CE credits; a list of all the networking and entertainment activities; and a selection of maps for the educational spaces, exhibit hall, various hotels, and the surrounding area. There were also videos and blogs for first-timers on the event's website and social-media channels, while the videos also aired on TV channels within the host hotels.

Good News: The Plan Had to Change
As registrations started coming in, NAVC organizers realized that some of their on-site plans had to be altered to accommodate a significantly larger crowd not just compared to 2022, but to any of their previous conventions. "We adjusted the program to allow for larger room setups, using the entire campus of the Hyatt Regency, Hilton, and Rosen to have education and entertainment in more places than we have traditionally done," says Joe Sorrentino, CMP, senior vice president of live events for NAVC. "We also made sure to add more staff on the floor to help attendees navigate the campus." A third education theater was placed in the exhibit hall as well. Lastly, for attendees who opted not to do that much walking, all educational sessions were livestreamed within the event app.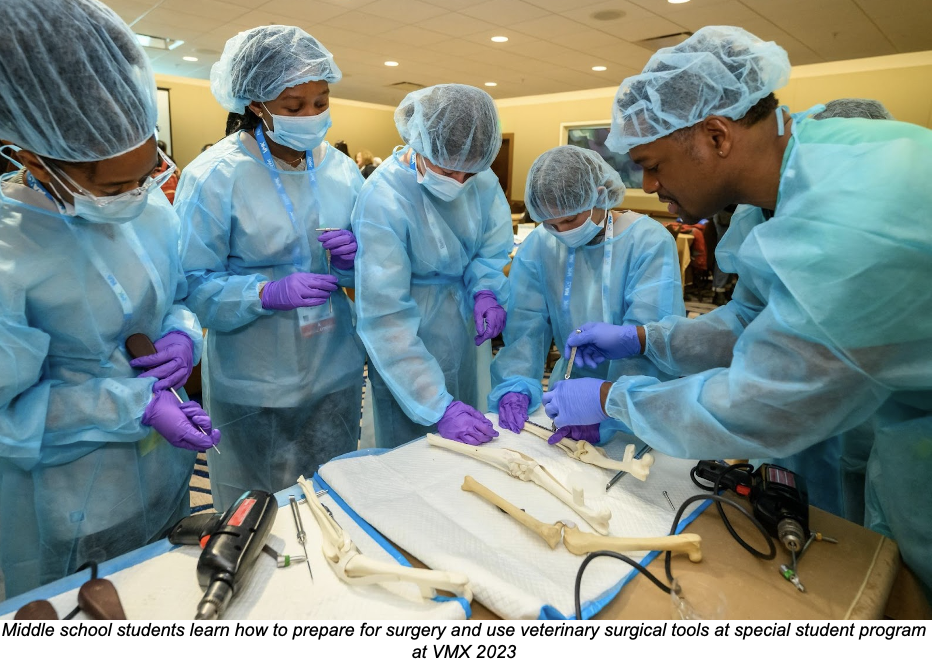 One other tactic NAVC used to encourage next-generation membership was to join with national DEI program BLENDvet to host two dozen local middle-school students for a day of education. Students gained hands-on experience using workshop stations to learn about veterinary surgery, dermatology, emergency medicine, and preventive care. Activities included donning scrubs to practice intubation in an emergency-room station using a model dog, conducting exams of eyes and ears, and examining hearts using a stethoscope. They also looked at slides under a microscope, examined skeletons, and observed veterinarians performing non-invasive procedures on two live dogs. Further, a concurrent session was offered for parents and guardians of the students to understand how to support their children in pursuing a veterinary career.

In the end, NAVC's efforts succeeded beyond even what its leadership had hoped for: 28,000 attendees, exhibitors, and speakers from 78 countries attended VMX 2023, with a whopping 9,500 first-time attendees in the mix—34 percent of the convention's total attendance.

Right after the mid-January show, NAVC sought to keep the newfound momentum by announcing that the $125 figure would be used as the early-bird rate for the 2024 show. The pre-Covid 2020 show had a regular fee of $525, so NAVC expects to see strong early-bird demand later this year.