Jennifer Kingen Kush, DES, is an evangelist for the power of digital events to help organizations meet their strategic goals—including financial and membership objectives. As well she should be. As executive director of the Professional Convention Management Association's Digital Experience Institute, Kingen Kush and her team have helped generate $1 million in revenue from online events since they started almost 10 years ago, and those events have been the conduit for almost 1,800 new members to join the organization.
MeetingsNet recently caught up with Kingen Kush to learn about the key insights that she and her team rely on to reach a global audience, achieve a healthy return on investment, and engage members year round.
Why do you always want to start by defining your goals and establishing metrics?
Some people think hosting a digital event is just about turning on a camera. But long before the cameras are rolling, you need to define what you're trying to achieve by adding a digital component to your face-to-face event. For example, let's say you want to livestream in order to extend your event's reach and generate more interest in your organization. In that case, you may want to track the number of digital attendees you get and then follow their behavior after the event. For instance, did they…
• Open post-event emails? 
• Make any purchases? 
• Become a member?
• Register to attend online again the following year?
• Upgrade to attending in person?
By demonstrating that you have purposeful goals and a way to measure them, you're more likely to get buy-in from stakeholders. On top of that, the data that you gather can be extremely helpful for improving your digital strategies.  
For PCMA's annual conference, Convening Leaders, one of the initial digital event goals was to prove that the DEI events would not cannibalize live events, that instead they would be a powerful way to connect and engage an audience. Other goals were to amplify the organization's reach to audiences around the globe who couldn't attend PCMA events in person, and to support the organization's membership and educational goals. To bring transparency and education around how digital events work as well as the actual topic the event covers, PCMA holds behind-the-scenes webinars in conjunction with Convening Leaders, and broadcasts interviews with VIPs and key speakers in DEI's Mash-Up Studio. The organization tracks progress on each of these goals by measuring the appropriate key metrics.
Once you get those basics established, what comes next?
Even if you're already gung-ho about digital event options, you still need to be deliberate about how you begin incorporating them. A good rule of thumb is to start small. That way, you'll be able to use each digital endeavor as a learning experience upon which you can improve the next time around. 
This also helps from a budgetary standpoint. If you're new to the world of digital events, your executives may be wary of allocating funds to something they deem experimental. Easing into things with carefully selected—and closely tracked—virtual options will help you establish a path of year-over-year improvement. 
PCMA began planning for digital events in 2009 and then live-streamed just six sessions the following year. At its 2018 conference, PCMA livestreamed 19 sessions, 63 interviews, four virtual happy hours, and two lunch-hour tech-focused spots—plus it captured a ton more for people to review on-demand. That's a large scope of online activity, but it's important to note that it's the culmination of a nearly decade-long process.
One of the beauties of the digital space is that it allows you to be nimble and test drive ideas. You try things, and you learn, and nothing will be perfect—there will always be things you want to tweak. You learn as you go, which is what's so exciting about digital.
One thing that's a must, regardless of the scope of your digital event effort, is to ensure that you are delivering a high-quality experience. PCMA has worked with the Mediasite events team from the beginning for its video capture and management needs. That high-quality capture is important because you can repurpose and extend all of that great content your organization has worked so hard to produce by rebroadcasting it on demand.
Engagement can be particularly tricky when your events are digital. How do you handle the engagement piece?
You'll likely need to be selective with what goes online, so choose content you think will be particularly compelling for your online viewers. But that's only the beginning. Your digital attendees want to be more than just observers. Prevent them from feeling like second-class participants by making a concerted effort to engage them:
• Use event emcees to lead discussions on social media.
• Use facilitators to connect online attendees directly with event sessions, especially for Q&A opportunities.
• Give online attendees a chance to provide feedback with features such as on-the-fly polling.
• Expose online attendees to experiences that go beyond regular sessions.
One note on that last point: Those online networking virtual happy hours and coffee breaks were the brainchild of an online audience member, who wasn't ready for it all to end after the closing session of the 2014 annual meeting. I was already texting my teammates as I flew back to PCMA headquarters in Chicago—within two days we had set up an online text chat for online attendees to have what I call those "hug-in-the-hallway" moments where they could relish new connections and continue the conversation. Now we include it at the end of each day for our big events, and we've added a coffee hour in the morning. It has proven to be a great engagement tool.
Sometimes, that online engagement spills over into real life, as was the case with some meeting professionals who participated remotely in the 2013 Convening Leaders in Orlando from their offices in Montrèal. Two of them stayed in touch afterward, and decided to create the M3 (for mobile meeting movement) road trip for the next year's meeting. They chartered a bus and, with 20 like-minded peers, rode and learned all the way to Boston for the 2014 annual conference.
Jacob Slaton Photography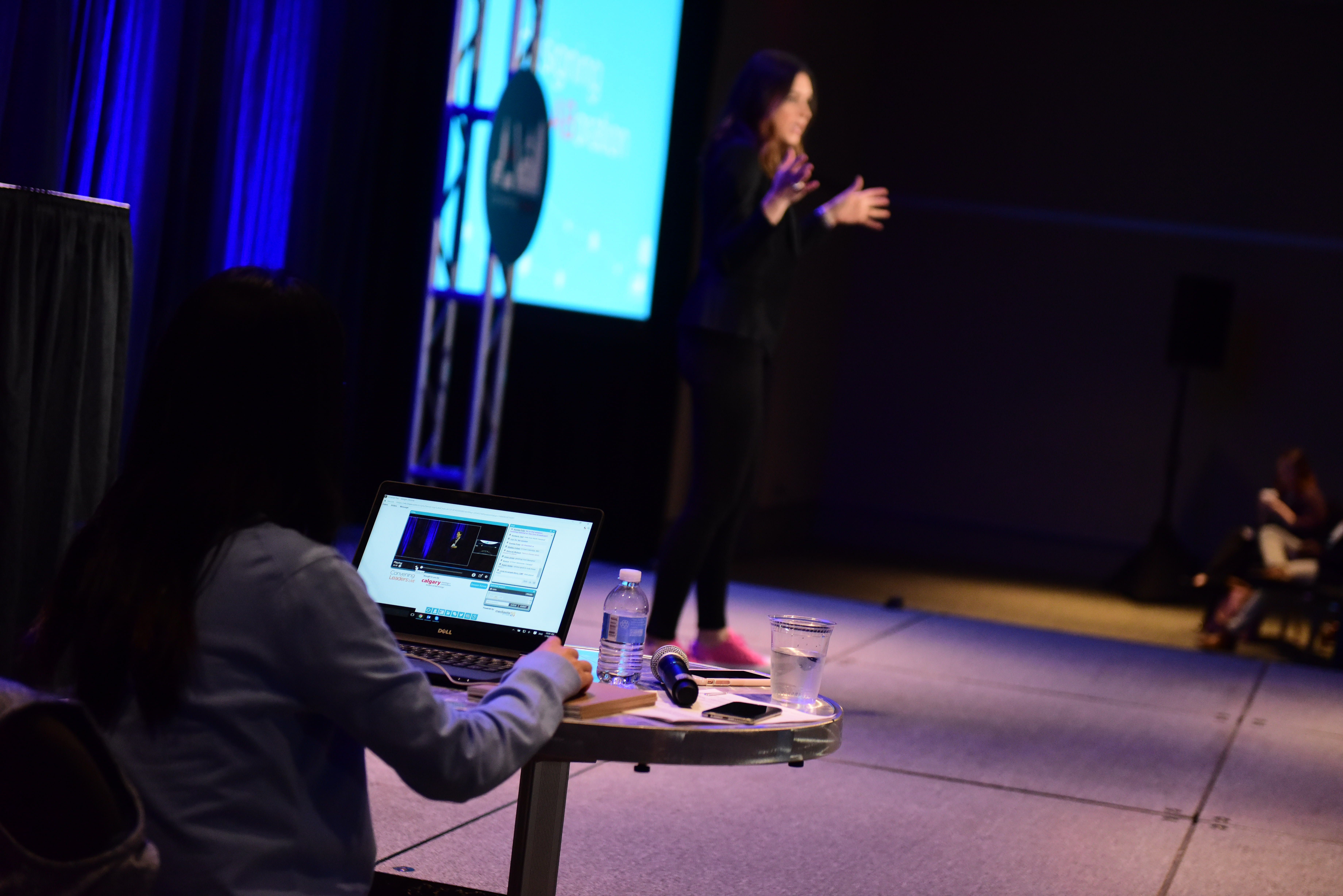 How does repurposing power up digital events?
Once you're livestreaming keynote speakers, breakout sessions, and Q&As with industry experts, you  should repurposing all that great content for a multitude of other uses:
• Rebroadcast it to audiences on the other side of the globe.
• Develop a searchable library of video resources.
• Slice and dice video content to create promotional videos for your website.
• Convert insights from the videos into blog posts, articles, whitepapers, and e-books.
While offering content on demand is a great way to enable those who couldn't attend in real time to partake of the education, you do lose interactivity and engagement with on-demand replays. One way PCMA makes it easier for virtual attendees to get more of the flair of the live event is to rebroadcast some of the most talked-about sessions from Convening Leaders. The one-day rebroadcast event includes an online moderator and text chat, along with any exercises and resources that were available to those at the live event. When the speakers' schedules allow, we bring them in for a "simu-live," where participants watch the captured content and then can have a live Q&A with the speaker.
Note: PCMA's Digital Experience Institute offers a number of resources free of charge, as well as the Digital Event Strategist certification for those who want to deepen their knowledge of livestream and digital events.