With attendees waiting longer to book their convention hotel stays, association and convention meeting managers need creative ways to ensure room blocks get filled. Making those blocks smaller has been the cautious planner's option since the recession.
But why not try a new incentive for keeping attendees in the block? We collected a couple dozen ideas in our recent MeetingsNet/association trends survey, which also reveals what factors planners consider most important when choosing room-block hotels, how many have been hit with attrition fees, and whether you should expect to pay for meeting space in hotels in 2014.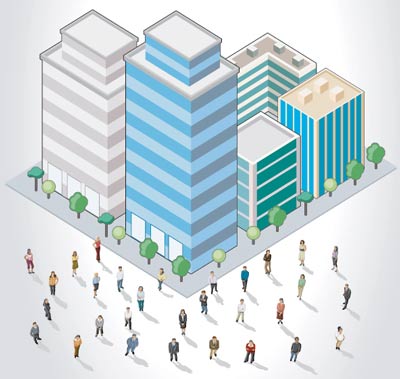 What About the Blocks?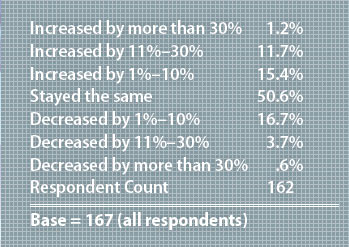 TABLE 1: How did the size of your hotel block change for your 2012 convention compared to your 2011 convention?
According to our survey, 28 percent of respondents' room blocks increased from 2011 to 2012, 51 percent stayed the same, and 21 percent were reduced in size. (See table 1.)
For 2013, the numbers are roughly the same with 27 percent projecting an increase, 62 percent saying their blocks will stay the same, and 11 percent anticipating smaller blocks. (See table 2.)  Readers are more optimistic for 2014, with 34 percent expecting blocks to increase, 53 percent staying the same, and 13 percent decreasing in size.
"What we have been seeing from the convention and visitors bureau side is planners becoming more risk averse and blocking fewer rooms," said Christine Shimasaki, CMP, Destination Marketing Association International's managing director at EmpowerMINT, DMAI's site selection database, during a recent MeetingsNet housing webinar.
For some, it's a "once bitten, twice shy" scenario. "Many were hurt financially during the downturn and hit with high attrition," says Susie Townsend, senior vice president of visitor experience at Visit Indy, citing feedback from a recent customer advisory board meeting. And many are still wary of an unstable economy. She's seen blocks that are 10 to 25 percent smaller even with the same or higher attendance. Lisa Nguyen, director of event management and registration at onPeak, a housing service, says her clients are beginning to increase their blocks, but in more strategic ways, paying more attention to what attendees want and where they want to stay.
During a city's high-demand periods, some hotels want to offer smaller blocks because they know they can get higher rates from transient business and other guests. In other words, the hotels can take advantage of "compression," according to Shimasaki.
Booking Outside the Block
"As much as things have changed, some things have not. There is still a lot of activity that goes on outside of the contracted room block, especially when you are contracting with multiple hotels," said Shimasaki. It often depends on the city you have selected and the time period, she added.
The American Society of Cataract and Refractive Surgery has about 53 percent of its attendees booking through the official housing block, said Paula Schneider, director of meetings and conventions, ASCRS. But according to its post-show survey, the association found that a little over half of those who didn't go through the official housing company booked online.
The use of third-party online sites like Expedia took off during the recession, and the trend hasn't gone away, despite the return to a more robust economy and stronger attendance. "As people become more tech-savvy and are carrying computers around in their pockets, they are booking online and looking for the best dollar value," said Brian Rubin, client services director of exhibitions and conferences at Penton, and a panelist for the MeetingsNet housing webinar. A post-show survey for one Penton show, WasteExpo, held in New Orleans, revealed that 16 percent of attendees booked through online sites; for Penton's International Wireless Communication Expo, held in Las Vegas, it was 17 percent.
"People tend to do a search of all the third-party sites before they make a commitment," says Nguyen. Her company includes a "lowest rate" clause in its hotel contracts to say that the hotels within the block can't offer lower rates over the contracted block dates.
Planners responding to the MeetingsNet/association survey listed the top three reasons they see delegates booking outside the block: 1) better rates found elsewhere; 2) booking at the last minute or too late for the block; 3) the delegate's desired room-block hotel is sold out. The first two were also among the top three responses planners gave when asked why exhibitors book outside the block. ("Mandated by corporate travel policy" was the third reason.) 
Better Late than Never?
The survey supports a trend Nguyen has seen emerge in the past five years—many attendees are waiting until the last minute to book their rooms. She notes a variety of reasons for the shift: They could be facing a longer budget-approval process, tighter schedules, or they could be holding out for a lower rate, knowing that in the final days before a conference, hotels often release available rooms to online companies at a discount. For example, about 7 percent of WasteExpo attendees said they booked outside the block because they came in at the last minute.
Going forward, however, it could be difficult to find better rates without staying farther out than anticipated, as occupancy rises and demand increases. "It's supply and demand," says Townsend. "If the city is open, great. If it's not and demand is higher, it's more difficult."
Feedback on Additional Fees
Attrition Is Back
Anecdotally, it seems hotels were more lax during the recession about charging attrition fees—penalties were almost non-existent. But that has changed. "Hotels have really strengthened their positions on attrition and on cancellation," says Bill Bohde, senior vice president, sales and marketing, at Meet Detroit.  "It has made meeting planners a little bit more cautious in blocking rooms."
Our survey found that 14 percent of planners paid attrition fees for either their 2012 or 2013 conventions. 
Meeting Space Charges
Attrition is not the only area where planners have been paying fees. In 2011 and 2012, 32 percent of meeting organizers were charged for the use of meeting space at hotels within their official, contracted block.
Typically, especially during the recession, hotels would offer free meeting space rental, particularly when the group met a certain F&B minimum, explains Mark Dallman, regional vice president of sales, HPN Global, a site selection and contract negotiation company. But in recent years, as illustrated by the survey, more hotels have been charging for meeting space on top of F&B minimums as demand has increased.
About one in four planners are uncertain about whether or not hotels will charge for meeting space rental in 2013 and 2014, our survey found. Some 60 percent reported they are not paying for meeting space this year or next, while 17 percent are paying rental fees. (See tables 3 and 4.)
Room Rates on the Rise
Hotel industry experts predicted room rates would rise about 4 percent in 2013, but what planners are seeing is a mixed bag when it comes to changes in rates and overall hotel costs. Just over one-third of respondents said room rates/hotel costs went up less than 5 percent in 2013 compared to 2012, while 23 percent said they went up 6–10 percent. About 7 percent said rates went up 11–20 percent, while a (rather unfortunate!) 1 percent experienced an increase of 21–30 percent.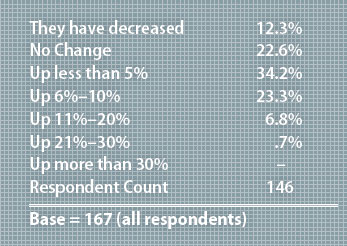 TABLE 5: On average, how much have room rates/hotel costs changed for your 2013 convention compared to your 2012 (or last) convention?
Further, 23 percent have seen no change in hotel rates in 2013 while 12 percent said room rates actually decreased this year. (See table 5.)
Hotel Preferences 
When it comes to choosing hotels for the official room block, meeting organizers say room rate/overall cost is the most important factor. (See table 6 for how they weighted individual factors, from "not at all important" to "extremely important.") About 71 percent listed rate/cost as extremely important and 26 percent called it important. 
Free meeting space is the next most critical factor on planners' lists, with 63 percent calling it extremely important and 30 percent saying it's important. Quality of room accommodations was third: 48 percent called it extremely important, while 49 percent said it is important.
TABLE 6: How important are the following considerations when choosing hotels for your official block?The Impact of Free Internet
About 44 percent of planners cited free Internet access/Wi-Fi as extremely important to their site selection and 36 percent called it very important. This factor ranked higher on the wish list than food-and-beverage discounts, hotel chain/type, and proximity to the convention center.
In a separate question, we asked planners if the hotels in their blocks offered free in-room Internet access to attendees at their last convention. Nearly half (47 percent) of respondents said hotels did offer free in-room Internet, while 21 percent said hotels did not offer it, and 32 percent said some did and some didn't.
Value of Booking Inside the Block
"If clients educate their people on why they should book inside the block, we find those events to be more successful," says Nguyen. Our survey found that 63 percent educate their attendees via information on their registration or hotel-booking Web sites, while 37 percent do not.
A review of the benefits of booking inside the block and using the official housing bureau—getting the lowest guaranteed rate, protection from being walked, being able to cancel, not having to make a deposit—always carries the most weight with attendees when it comes from the association, says Nguyen.
The bottom line is that when attendees book inside the block, they are supporting the association by giving it more leverage in negotiations, she says. The larger the block, the more revenue for the destination, the better the history, and the easier it is to negotiate concessions with individual hotels or the CVB, potentially including free Internet, free parking, free meeting space, discounted F&B, cheaper rooms, tours, receptions, off-site events, shuttle service, complimentary rooms, room upgrades, or free breakfast.
Poachers
One-third of respondents said their room blocks were attacked by unauthorized third-party housing companies (often called poachers) in 2012 or 2013.  Nguyen says she's come across more poachers in recent years and they typically go after exhibitors and promise lower rates, tricking some into thinking they are official housing bureaus. "We've run into issues where [exhibitors] will book through a poacher and pay upfront and when they show up, the poacher has disappeared and they don't have the reservation," she says. That's why it's important for associations to clearly communicate the name of the association's official housing bureau.  
21 Ways to Keep Them Inside the Block
We asked planners for their most successful incentives for enticing attendees to book inside the block and got some great responses:
Discount off next year's conference registration
Discount for hotel gift shop or spa
Discount off purchase of audio recordings of sessions from conference
Free raffle ticket for prize drawings
Hotel breakfast for only those who book inside the block
Discounted room rate
Guaranteed lowest rates
Free in-room Internet
Charge an additional fee if they do not book inside the block
Free shuttle
No use of shuttle if they book outside the block
Discount for early birds
Free registration for first-time attendees who book inside the block
Higher registration fees if they book outside the block
Convenience of hotel location to the convention center
Association gives discounted hotel room rates if they room with another delegate
Promotions combining housing and registration, whereby if attendees register for the conference and book a room by a certain date they are entered into a contest to win either free registration or hotel stays.
Free use of all hotel amenities, including free parking
No resort fees
Tie housing to registration by, first, making them book hotel before registering or, second, making them register before getting access to hotels.
Put self-registration kiosks in the hotels in the block for convenience
Download the Full Survey
Download the full survey, complete with 22 data tables and dozens of write-in suggestions from planners for successful incentives they use to entice attendees to book within the block.
Methodology
The online survey was sent by Penton Research to 11,040 MeetingsNet/association readers. The results are based on 167 responses from meeting planners and show organizers collected between June 27 and July 10, 2013. The size of the official room block at respondents' largest 2013 conventions broke down as follows: 59 percent had room blocks of 1,000 total room nights or fewer; 21 percent used between 1,001 and 3,000 room nights; 14 percent used 3,001 to 10,000 room nights; 4 percent used between 10,001 and 20,000 room nights; and 2 percent used more than 20,000 room nights.