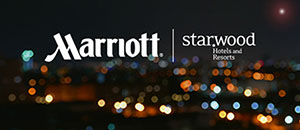 Marriott International has announced that it will acquire rival hotel giant Starwood Hotels & Resorts Worldwide in a $12.2 billion deal expected to be completed by mid-2016. The new Marriott will be the world's largest hotel company, with 5,570 properties—1,270 Starwood and 4,300 Marriott—in 30 brands.
For meetin
Register to view the full article
Register for MeetingsNet.com and gain access to premium content including the CMI 25 Listing, our monthly digital edition, the MeetingsNet app, live and on-demand webinars, and much more.