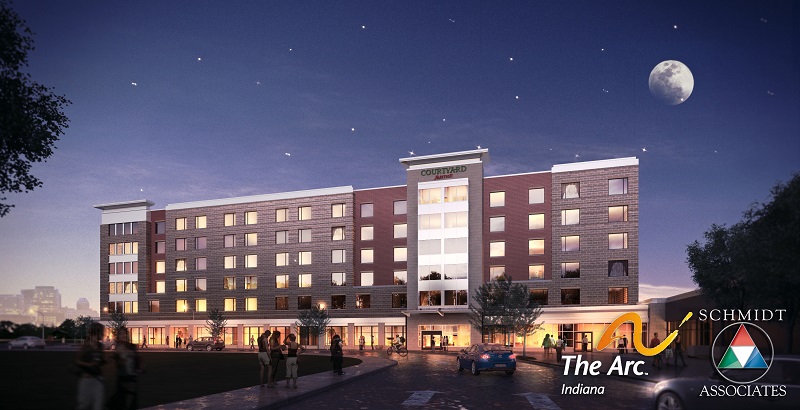 I just came across an article on the Religious Conference Management Association's Web site that made my day: It announces that The Arc of Indiana, a statewide advocacy organization for people with disabilities, is building a training institute and teaching hotel in Muncie to help people with developmental disabilities train for hospitality jobs.
This topic is very close to my heart—my sister Becky was born with developmental disabilities, and despite the fact that she's a hard worker and a joy to be around (I'm not biased, you can ask anyone who has met her!), it has been a lifelong struggle for her to find full employment. And she's far from alone: According to the U.S. Bureau of Labor Statistics, as of 2011 people like Becky face an 82 percent unemployment rate—82 percent! And I would venture that most of these folks are fully willing and able to work, but that isn't going to happen without training, support, and employers who understand the value of what the differently abled can bring to the workplace.
And now they're going to get all three in Muncie. Plus the Horizon Convention Center, which has gone without a host hotel since 2006, gets its hotel (a 150-room Courtyard by Marriott Teaching Hotel at the Horizon Center, opening this year), and the local hospitality sector will get an influx of well-trained, eager-to-work employees. Plus, according to The Arc of Indiana, potential employers will also be educated on how to successfully hire and keep employees with disabilities. And the project, which is supported by a host of government and private-sector partners, will also include "entrepreneurial venture opportunities" in the hotel, things like a news stand, flower shop, and the like.
Jeff Huffman, who owns Huffman Healthcare and Disability Consulting, told RCMA that he came up with the idea of creating a "real, functional business that would pay taxes and make a profit while offering employment for individuals with disabilities and training under an internship-type model" a few years ago out of frustration about the dearth of post-secondary opportunities available to his son with Down Syndrome. Hopefully by the time his 13-year-old son is old enough to take part, this project will be a roaring success for both people with disabilities and for Muncie, which is anticipating the hotel will bump its meeting business 30 percent, according to the RCMA article. It quotes Joann McKinney, president and CEO of the Horizon Convention Center, as saying, "We're able to attract business that never would have come to Muncie before. People want to support this project and be involved with it."
Yes!
Suggested Categories
More from MeetingsNet

---